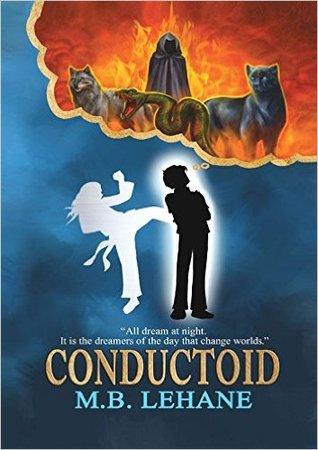 M B Lehane, Conductoid, Pounce Publications, 2 May 2016, 436pp., $7.93 (eBook),  ISBN: 9780994489401.
Jack is a daydreamer. He can't focus on his classes at school, is doing badly and getting into trouble. Matters are not helped by his twin sister Phoebe who is studious and academically minded. Added to this, Jack is on the school's soccer team, and they have a big game coming up against their arch rivals. Finally, Jack is visited in his daydreams by a hooded figure and discovers he is a Conductoid, a being who can channel the powers of beings from other dimensions into this dimension. The hooded figure, Azan, takes Jack to different places around the world and uses him to help people.
At 426 pages, this book is far, far too long. There are too many scenes which serve no purpose and don't drive the plot forward, and at times the story devolves into rambling. Perhaps a hard edit would have helped the flow?  However, there are quite funny moments and lots of clever word play where the author shows he does have potential and that the raw material is there. This book is essentially two stories – Jack the school student dealing with bullies, homework and soccer matches, and Jack the Conductoid. The scenes with Jack the student in general work much better, and are more engaging and better paced. If they were pared down and tightened up they would make a good set of short chapter books for upper primary students.
I cannot recommend this book in its current format, but if the author continues to train himself as a writer with discipline and focus, in a few years we could be seeing quite good children's books from him.
Reviewed by Rebecca Kemble