Elliot Perlman (text) and Laura Stitzel (illustrations), Catvinkle & the missing tulips (Catvinkle, #2), Penguin Random House, Australia, October 2020, RRP $19.99 (hbk), ISBN 9781760894382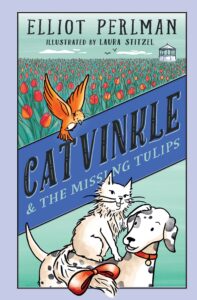 Catvinkle and the missing tulips is the sequel to Catvinkle, which was Elliot Perlman's foray into children's literature, having established himself as a best-selling author of novels for adults. In this second book the reader is re-introduced to the haughty, vain cat, Catvinkle, and her loyal, kind dog friend, Ula, and a host of other anthropomorphised domestic animals.  
The story begins with the human children, Anja and Ferdi, asking Catvinkle and Ula to help their lamb friends, Shepsil and Lambken, who have been wrongly accused of eating the tulips of Amsterdam and consequently in danger of being banished. The solution to the problem seems obvious – expert evidence to verify the sheep's claim that eating tulips would make them sick. But Twinkiepaws, the manipulative and self-serving leader of Kittens Anonymous, has other ideas. She organises for the sheep to face a court trial.
With the court case central to the story, there are many discussions about justice, fairness, and court proceedings. The book explores other social justice issues too – such as prejudice, discrimination, xenophobia, social rejection and even animal conservation. There are also many lessons to be drawn from the characters' responses to injustices.
I love the gentle and subtle humour of this book with many puns, irony, confusion over idioms and amusing dialogue and banter between the characters. The animals' perspectives on cultural references, such as classical tales and Rembrandt's Night Watch painting, are fun too.
Laura Stitzel's lovely black and white pencil drawings add charm to the book and provide added context to the characters and settings.
Perlman's enormous competence as a novelist is evident in the way he weaves thoughtful themes and witty humour into the story and develops characters with distinctive personalities. I was, however, concerned about the slow pace of this quite long chapter book and wondered whether children would have the patience to read it independently. I think it would work best as a book for adults to read with children (about 6-9 years old) and explore the philosophical topics, subtle humour and rich language together.
Reviewed by Barbara Swartz