Meg McKinlay, Catch a Falling Star, Walker Books Australia, March 2019, 240 pp., RRP $17.99 (pbk), ISBN 9781925381207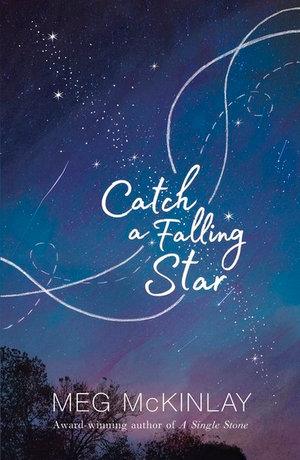 To Catch a Falling Star is generally understood as figurative language – no one really ever catches stars falling from the sky…or do they?
It is 1979, and Skylab, one of the world's first space stations, is rushing back to earth. For 12 year Frankie Avery, who lives in a small town in a remote part of Western Australia, this is not the only calamity rushing towards her. As she, her little brother Newt and her mother deal with the unaddressed grief of losing their father and husband, it sometimes seems as though it is not just Skylab falling from the sky.
Frankie is juggling a lot for a 12 year old girl. Not only has she the usual schoolwork and friendship dramas like most girls of her age, she also tries her best to help her mother by cooking the evening meal, and by keeping her eye on her little brother, Newt. As Skylab's imminent return to earth draws closer, Newt becomes increasingly fascinated, and keeping him safe becomes more of a challenge than ever. With memories of her amateur astronomer father floating ever closer to the surface, Frankie struggles to navigate her loss and to find acceptance. While completing her school project on Storm Boy, Frankie realises that:
Storm Boy isn't about a pelican. It's about losing something important, something that feels like a part of your heart. It's about things falling from the sky while all you can do is watch. About not being able to save the thing you love no matter how fast you run, no matter how much you hope.
This coming of age story is beautifully written. It captures magic and hope as well as grief and loss in equal balance, and while based on an international event, it speaks to the heart of the reader. The characters of Mum, Newt and particularly Frankie are so relatable in their struggles. Mum, burying her own sadness by working overtime to support the family. Newt, immersing himself in the science and magic of the Skylab return, perhaps remembering more about their father than others realise. And Frankie, frustrated at feeling unseen and unappreciated, dealing with adult problems from a child's perspective.
Although this book is centred around complex themes including change, grief and loss, it has a hopeful and positive tone. Middle years' readers from eleven and up will relate to the down to earth Frankie. Adults reading the book will marvel at the accurate depiction of simpler times – when adjusting the aerial on the television helped reduce the 'snow' and when news came in daily bulletins rather than in a constant onslaught. Teaching notes by Walker books are available, and Meg McKinley gives a lovely insight to the inspiration for the story on her site.
This title will be an important part of every upper primary and early secondary school library collection and provides plenty of scope for bookclub discussions.
Reviewed by Kay Oddone