Chrissie Michaels, Castle Hill Rebellion, Omnibus Scholastic Australia, May 2019, 240 pp., $16.99, RRP (pbk), ISBN 9781742991863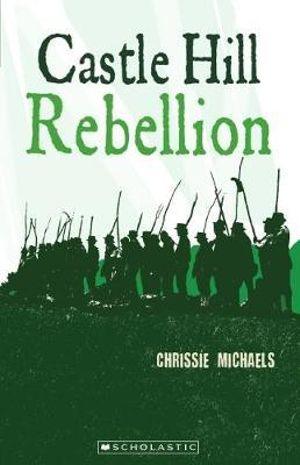 The popular and long-running My Australian Story series has a new entry, Castle Hill Rebellion. Told through the eyes of young Jonothan Joseph Daley, Castle Hill Rebellion is the story of the first and only major convict uprising in 1804.
The complexities of the political climate at the time, the sheer distance and drama of transportation to the Southern Hemisphere, and the hard living conditions endured by the convicts in the early 1800's are brought to life by the interpretation of events by the (fictional) character of Jonothan (Joe). Although only about 12, Joe is serving out his time as a transported convict. His life is harsh, but quiet, in his role of shepherd boy – but easier, he thinks than that of his friend Pat, who is also around 12, and who carts and lays blocks of sandstone as foundations for the new buildings of Parramatta. Along with Kitt, orphaned during transportation and adopted by pardoned convicts Thomas and Ann, the three friends become unwillingly embroiled in the plot to overthrow their captors and return to Ireland.
Although transportation to Australia began as a way to deal with convicted criminals, threats to British control in the form of Irish rebellion saw the commencement of transportation for political prisoners. Initiated by these Irish political prisoners, the aim of the Castle Hill rebellion was to overthrow the British colonial authority, and then return to the homeland to resume the fight for an Irish republic.
Young readers aged 9-12 will find the adventure of the Castle Hill rebellion draws them in, and teachers will appreciate the obvious connections to the Australian History curriculum. Historical notes at the end of the book give insight into the people, places and events in the story, and other useful resources can be found on the National Museum of Australia website.
Reviewed by Kay Oddone.
Read Kay's interview with the author, Chrissie Michaels here