Nadia L. King, Can the Real JR Stand Up, Please, Dixi Books, July 2021, 160 pp., RRP $29.50 (pbk), ISBN 9781913680176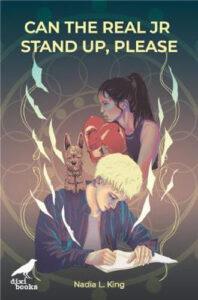 I have a confession to make. I judged this book by its cover, and honestly started reading not expecting much from it. Then I packed it away while I was getting ready for a move, and forgot all about it until now.
And, of course the lesson here is that you should never judge a book by its cover.
Jake is 17 years old, and his father treats his wife and Jake like his punching bags. Both Jake and his mother are trapped in the situation, powerless to stop him.
He has two bright spots in his life: his manga art and hanging out with his best friend, Phee, a headstrong, determined young woman but Jake has a vision of her in his head he can't quite see past.
So, that's Jake in a nutshell in the last year of school, before Phee's mother shows him an opportunity he never thought he would have: applying for a scholarship to study how to be a manga artist. It's everything he wants and hopes for, but more than anything, it's his escape.
The blurb also mentions magical realism, and that comes in the form of Baba Ami, his dog and Takehiko, his anime hero. Jake is the only one who can hear Baba Ami talk, and she's his lifeline in a world where he has to endure his father's violence. Takehiko is everything he wants to be: brave, a role model for friendship, and most of all Takehiko knows who he is; Jake is still figuring out who he is for himself.
Two things happen in Jake's life that throw his life off kilter: Phee kisses him unexpectedly and someone he considered a kindred spirit, a local graffiti artist, Clay, reports him to the police. Jake is arrested, and thrown out of home, but it's Phee and her mums who come to his rescue.
More than anything though, this is Jake's journey for himself and his mother, standing up against the violence his father has brought into their house.
Can the Real JR Stand Up, Please, is a thoughtful and thought provoking exploration of domestic violence. It takes readers into the life of someone who is enduring this sort of home life, showing that even if everything may seem okay on the surface, reality may be very different. It's ultimately hopeful resolution may offer possibilities to readers who connect with its themes.
Reviewed by Verushka Byrow