Aunty Fay Muir and Sue Lawson (text) and Leanne Mulgo Watson (illustrator), Sharing, Magabala Books, November 2021, 32 pp., RRP $24.99 (hbk), ISBN 9781925768749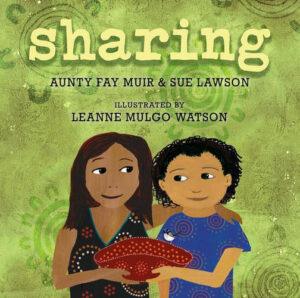 Sharing opens with the beautiful line.
When we share, there is plenty for all.
The text and illustrations are very simple yet evocative, revealing Aboriginal and Torres Strait Island culture and traditions. It inspires everyone to care for each other and Country.
Sharing is the third book in the award-winning Our Place series. Written by Boonwurrung Elder, Aunty Fay Muir and acclaimed author Sue Lawson, it is beautifully illustrated by award-winning Darug creator, Leanne Mulgo Watson. Like the first two books Respect and Family, it goes to the heart of First Nations' philosophies and invites young readers to think and discuss their world.
The daily activities of cooking, making tools, gathering seeds and roots for eating and life tasks connect with the great issues of humanity such as healing, giving back, cleansing spirits. While it is such a simple structure, it is powerful and moving. It invites engagement and critical thinking by children and adults too.
The glorious earth colours and symbols in the illustrations also provoke discussion, investigation, and ideas. Each double page offers enjoyment, reflection, and discovery.
Suitable for ages 3 to 8 years, but all ages will love it. Ideal for class workshops.
Reviewed by Susanne Gervay