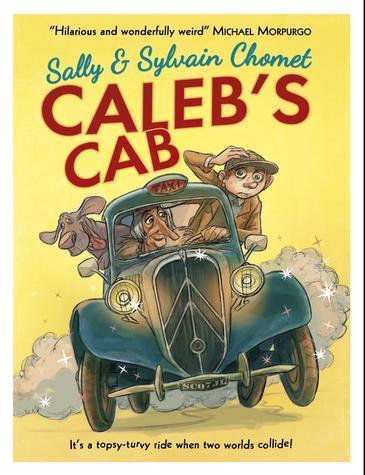 Sally Chomet (text), Sylvain Chomet (illus.),  Caleb's Cab,  Walker Books Australia,  1 Nov 2016,  176pp.,  $24.99 (hbk),  ISBN 9781406342277
Husband and wife team, Sally and Sylvain Chomet have collaborated on several animated films in the past, but this is their first published book together. Caleb's father has disappeared, leaving Caleb to look after his childish, incompetent mother. Caleb has been earning money driving his father's cab, but it's not enough to pay all the bills and the mortgage. The bank manager is putting pressure on Caleb's mother to sell him to the bank under the C. A. S. H. (Children Acquired to Settle Home loans) scheme. One night while driving the cab, Caleb is transported into an alternate reality, and realises where his father is and why he can't get back. But before he can rescue him, Caleb's mother sells him to the bank and he is taken into their custody and trapped in their training program.
This book has a strong feel of a kid's movie – the two-dimensional, archetypal characters, the fast paced plot, and the cartoonish illustrations all combine to give it a cinematic feel. I think it was this that left me feeling quite detached and unmoved by the story – it felt more like a film experience than a literary one. However the story is interesting and moves quickly, and it will no doubt find its audience. The illustrations work well with the text and they are full of energy and action. This book will probably do well with middle to upper primary students, particularly boys.
Reviewed by Rebecca Kemble