Kylie Howarth, Bush Magic, Walker Books, May 2022, 32 pp., RRP $25.99 (hbk), ISBN 9781760650827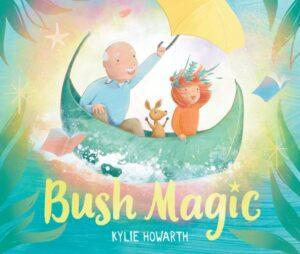 Jarrah looks forward to bush adventure day with Grandpa, her favourite day of the week. Unfortunately, the sun forgets to shine and it's too wet for adventure. Or is it? Luckily Grandpa knows how to find bush magic, even when they're stuck inside. Jarrah boldly leads the way on an imaginative adventure to rescue a group of bush animals from a flood.
Bush Magic is a beautifully simple story about imagination, nature and spending time with family or loved ones. Even though Jarrah and Grandpa couldn't do exactly what they wanted to, they were able to use their imaginations to have a wonderful adventure. It also shows how simple it can be to have a great time with a loved one. The story includes some figurative language and fun lines to read aloud, such as Queen Jarrah's refrain – ziggety-zoo kangaroo! It's a nice length for little ones and bedtime readings.
The illustrations use texture and digital collage to create beautifully rich images. There is a mixture of natural 'bush' tones and pops of colour to brighten the story. Children will love spotting the little details that link the imagined adventure to the real living room, and will likely spot new details each time they engage with the story. The characters are sweet and expressive, especially Jarrah with her bright orange hair and cute smiley face. There are lots of ways this picture book could be used to inspire craft and other learning activities.
Bush Magic is most suited to children aged 3 years and older.
Reviewed by Laura Holloway