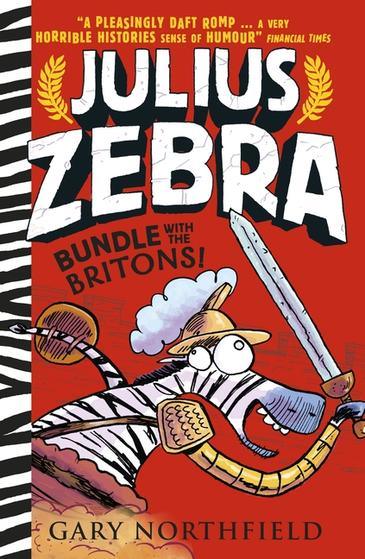 Gary Northfield, Bundle with the Britons! (Julius Zebra #2), Walker Books Australia, 1 July 2017,  288pp.,  $12.99 (pbk),  ISBN: 9781406373721
Julius Zebra is on top of the world. He's the people's champion of the Roman gladiator world and is swamped with fans wherever he goes.  The Emperor Hadrian has promised to grant his freedom, after one last task involving a trip with his best buddies to a strange and exotic land, Britannia. But, after a stinky voyage by sea, Julius and his gang of quirky friends discover Britannia is not quite the holiday destination they had in mind. The locals are ferocious, the weather is cold and all their attempts at escape are foiled.  Will our stripy hero and his friends be able to survive their wildest gladiatorial battle ever? And will they finally escape the clutches of the Roman Empire?
The second in the Julius Zebra series, Bundle with the Britons is a fast-paced, laugh-out-loud romp of a read. It's bizarre, it's mad-cap and it's completely fantastic.  Gary Northfield, who has worked on the Horrible Histories books, is adept at delivering historical facts in a way that has kids clamouring for more. Here, they're given a glimpse at the lives of the Roman gladiators, the rule of the Roman Empire and the beginnings of Britain.
Northfield peppers the story with his crazy cartoons, which further enhance the madcap nature of the story. He even includes an introduction to Roman numerals at the end of the book, along with some fun facts on what the Romans bought to Britain.
Reviewed by Penny Harrison