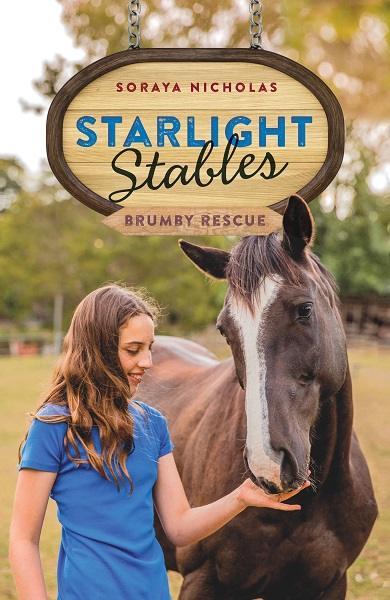 Soraya Nicholas, Brumby Rescue (Starlight Stables #5), Penguin Australia, 2 Jan 2018, 192pp., $12.99 (pbk) ISBN 9780143787440
Soraya Nicholas, Barmah Brumbies (Starlight Stables #6), Penguin Australia, 2 Jan 2018, 192pp., $12.99 (pbk),  ISBN: 9780143787433
These are lovely, wholesome books for primary school readers. Brumby Rescue opens with the main character, Poppy, curious to investigate her first horse auction. That curiosity infected me too and the author cleverly crafted a feeling of excitement, while explaining how the auction worked. Young, horse-mad Poppy actually bids on and buys a brumby – a wild horse – completely unplanned. It's a great introduction, prompting loads of questions: Is she crazy? What will her parents say? How can she afford it? What next? Poppy's aunt and uncle run Starlight Stables, where they train horses and riders, and Poppy and her two friends visit during the holidays and at weekends to ride. This book centres around Poppy's new brumby and the challenges she faces while trying to earn its trust.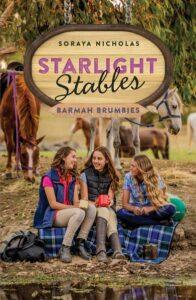 The next book, Barmah Brumbies, continues the focus on brumbies, with Poppy and her friends keen-as-mustard to attend a five-day trail ride in Barmah National Park (which is a real National Park in Victoria). They're excited to be staying out overnight with their horses and, Poppy especially, is thrilled to be visiting the national park where her brumby ran wild. The girls make an impression on one of the trail ride organisers who tells the trio all about the history of the brumbies in the area and explains how they are managed.
There's a lovely Australian flavour to the stories. The girls are great mates. They work hard and take pride in caring for their horses. They're responsible, supportive and caring, with a bit of daring too. There's camping and the bush, Australian wildlife is featured and, of course, there's horse riding.
These were the first books in the series I had read and, while the stories build on previous books, they also stand alone just fine.
Reviewed by Carissa Mason