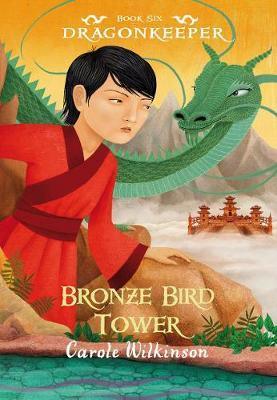 Carol Wilkinson, Bronze Bird Tower (Dragonkeeper #6), Black Dog Books/Walker Books Australia, March 2017, 368pp.,  $24.99 (hbk), ISBN: 9781922179586
In the sixth and final instalment of the award-winning Dragonkeeper series, Tao finally arrives at the Dragon Haven and prepares to become dragonkeeper. But what Tao and his faithful companion Kai find in the last home for dragons is not what they expected. Now, they must prove they belong and find a way to save the dragons' future from the evil nomad Jilong.
This gentle story of a young monk trying to find his way takes readers into the ancient world of China in the Sixteen Kingdoms Period. In the realm of dragons, Tao becomes protector and leader in a very different way than he expects. Throughout his personal journey, Tao struggles with his own quest and must determine right and wrong, overcome nagging self-doubt, and discover his own unique strength. With his loyal dragon friend Kai by his side, the duo face their fears as they reach an unexpected but satisfying ending.
Simultaneously, the dragon haven deals with its own changes — a struggle for leadership, a lost love and new members of the clan. Wilkinson's fascination with dragons is readily apparent as their rituals, habits and features are recounted in vivid detail. Readers experience dragon life firsthand through the pen of a dragon aficionado.
Jumping into this series only at its last instalment, I met Tao at the end of his long journey, but was immediately drawn to him and cheered for him through his final steps. Tao struggles with things that we all go through — wondering if we are worthy, questioning our abilities, trying to fit in — although normally we do this without dragon friends and warlord enemies. Tao's beautiful gift is finally revealed and readers learn a wonderful message about the power of small things. I also thoroughly enjoyed the setting in ancient China and although not always gentle, the story reflected the brutality and hardship of the times.
Overall, the culmination of the Dragonkeeper series is a wonderful standalone story that will also prove satisfying for long time fans.
Reviewed by Stephanie Ward