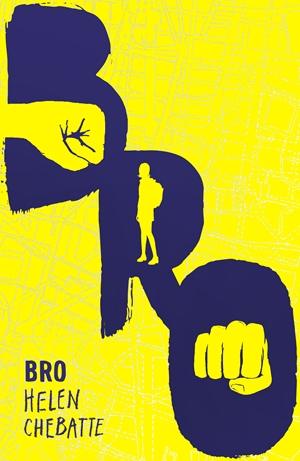 Helen Chebatte,  Bro, Hardie Grant Egmont,  1 Feb 2016, 240pp.,  $19.99 (pbk),  ISBN 9781760125509
Romes (Romeo Makhlouf) and Diz (Aziz Mansoor) are best friends and schoolmates at a Sydney Catholic high school, Christian Boys High, which has a multicultural population. There are Lebs (Lebanese), Fobs (Fresh off the Boat, but that includes Samoans, Maoris and Fijians), Rez (Asians, rez being the Arabic word for 'rice') and Ozzies. The latter can be called Bogans, Skips or Convicts – take your pick.
Romes and Diz are Lebs, despite the fact that Romes's mother was Australian and that he was born in Australia. The schoolyard culture demands that you stick with your group. As with all the groups, Lebs must be respected and support each other if one of them is insulted. However the boys interact with each other in the classroom and generally get along quite well. Then one of the Fob boys, Jarrod, wants to set up an illegal fight club, and he wants Romes to be in it.
The situation is complicated by Romes's developing romance with Steph, a student at the school next door, Saint Adele College. Steph has been going out with Luke, but she really wants to hook up with Romes. Romes is a solid, smart, loving boy. Diz is his happy and loyal friend. When the worst happens Romes sees that 'we are all equal. And we are all Australians.'
Part of the success of Bro is Chebatte's clever recreation of teenage life. She captures their talk, their attitudes, their experiences. Beyond that, she also examines the role of violence as a resolution to conflict and how family tragedy affects the young. This is the first novel from this talented writer, in which serious ideas are treated with the lightest of touch, and where tragedy is confronted with a rare honesty.
Reviewed by Stella Lees