Charles Massy (text) and Mandy Foot (illustrator), The Last Dragon, National Library of Australia, November 2021, 44 pp., RRP $19.99 (hbk), ISBN 9780642279729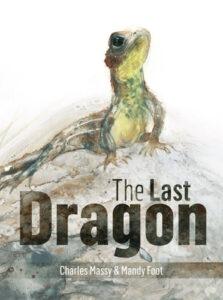 Australia leads the world in the rate of mammal extinctions and comes third overall in the rate of species extinctions. Our woeful record requires a change of heart among everyone, and perhaps especially among the young generation coming soon into stewardship of our nation.
This book brings one of our most endangered creatures to our attention. The Last Dragon follows the life story of a single Monaro Grassland Earless Dragon, named Timpo, as it wanders across the Monaro plains with a companion-spider, Wolfie. Overgrazing has more or less destroyed these grasslands as a viable habitat for the tiny lizards (once a food source for local inhabitants). Timpo is searching for a mate, and his beautiful calls are going unanswered. Will he ever find another lizard like himself?
Charles Massy is a landowner on these plains, and with the help of local Ngarigo Elders he is protecting a small pocket of the dragon lizards discovered on his property. This little book's tale is beautifully told, and its appendices and after-words are full of fascinating and distressing information. If you live near this part of New south Wales or you might be travelling through it, or you have a passion for knowing more about Australia's wildlife, then this small, very portable book will be a treasure for you.
Mandy Foot's water-colour evocations of life down among the grasses make a stunning accompaniment to the text. Recommended for nature enthusiasts from five years to fifteen.
Reviewed by Kevin Brophy