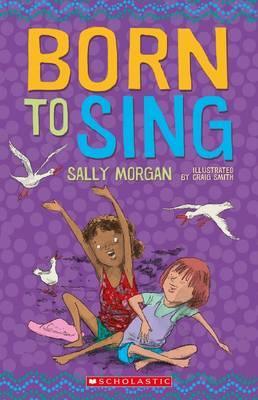 Sally Morgan (text),  Craig Smith (illus.), Born to Sing, Scholastic Australia, Sept 2016, 64pp., $12.99 (pbk), ISBN 9781742991511 
Born to Sing is the latest title in best selling author Sally Morgan's early chapter book series based on Indigenous characters.
Maddie is a young girl who loves to sing. She doesn't care about becoming famous or what her annoying older brother says; she was born to sing like the magnificent humpback whales do, their beautiful voices echoing in the deepest ocean.
Lately, Maddie has been singing along to a CD of the humpback whale song, so, when mum and grandma promise to take Maddie to Shark Bay to see the whales for real, she is filled with excitement and even inspired to write a song of her own.
The family are due to set off but little Maddie is filled with trepidation. Will her dreams come true? Will the family's rattly old caravan make it to the very end of the ten hour long trip?
This is a heart warming tale about family, friendship, overcoming disappointment, and the unexpected kindness of strangers. It provides a great platform for discussions about feelings of frustration and the understanding that those close to us can sometimes make mistakes.
Young readers may enjoy compiling some of the fantastic whale facts that crop up throughout the story or have a go at writing their own whale song, just like Maddie did.
Filled with Craig Smith's instantly recognisable illustrations, short chapters, and well spaced out text, this would make a great first chapter book to enjoy as a family, or a fun, confidence building read for independent readers (six years and over.)
Reviewed by Lisa Hoad