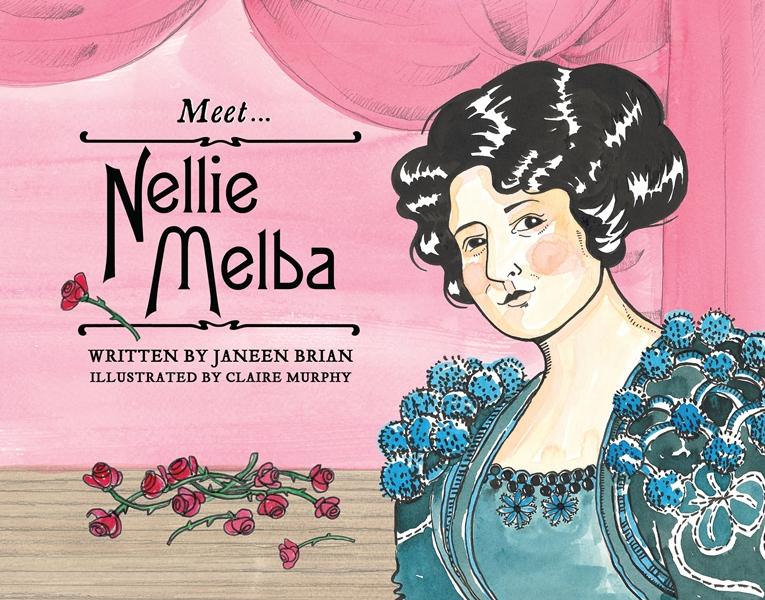 Janeen Brian (text), Claire Murphy (illus.), Meet … Nellie Melba,  Random House Australia, 1 August 2016, 32pp.,  $24.99 (hbk), ISBN: 9780143780298
This is the eleventh book in the Meet… series, which introduces primary school children to significant people from Australian history such as Donald Bradman, Nancy Bird Walton and the Anzacs.  In clear, non-fiction prose it tells how Dame Nellie Melba pursued her dream of becoming a great opera singer despite years of opposition and difficulties. Encompassing the period of her life from her childhood to her final performance, it also includes a comprehensive timeline that details the significant events and achievements of her life.
The book is illustrated throughout with beautiful watercolour art that makes use of simple lines and a limited colour palette for a clean, soft look. Every image is like a snapshot in time, with a strong sense of movement and emotion, particularly when they focus on Nellie herself.  There is a nice balance between large images of important moments and places in her life, such as performing at the opera house, and small 'cameo' style pictures that given a sense of the more personal, intimate moments, such as spending time with her son.
The writing too does an excellent job of depicting the facts of Nellie's biography while touching on the emotional highs and lows, and the realities of being a single mother with a career in the late 1800s and early 1900s. It manages to include a great deal of information in an easy-to-read style.  The book begins with Nellie being told off by her father, which makes her instantly relatable to school age children. She is portrayed as a courageous, strong willed and focused woman whose persistence and commitment to her dream allowed her to step beyond the boundaries imposed on a female in that era.
Perfectly pitched at mid to upper primary, this book makes the biography of one of Australia's icons easily accessible, interesting and vivid.
Reviewed by Rachel Le Rossignol