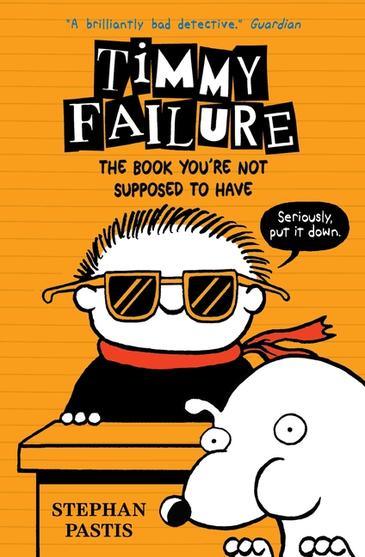 Stephan Patsis,  The Book You're Not Supposed to Have (Timmy Failure #5), Walker Books Australia, Oct 2016, 274pp., $17.99 (hbk), ISBN 9781922244888
The international, best-selling author, Stephan Patsis, presents us with the fifth hilarious book in the popular series for middle graders – the one the worst detective in town never wanted us to see – it's Timmy Failure: The Book You're Not Supposed to Have.
You see, Timmy goes to extraordinary lengths to hide the fact that he is still operating his detective business despite being banned by his mother until the end of the school year. He also spills his slightly embarrassing, totally misguided judgments about the intentions of his so-called 'loony' older cousins, and the whereabouts of his far-too-studious friend, Rollo Tookus. And with this extremely private manuscript being stolen, his detective work, his reputation, and his academic future are all in grave danger of the ultimate failure.
Never mind school, or the all-important upcoming wedding of his mother to Doorman Dave, the overly confident, brazen and real-life-opposing Timmy has two main goals on his radar: 1. World Domination (still), and 2. To solve the case of the missing Rollo. With a list of incongruous suspects as tall as his envisioned tower of Greatness, the absolute incompetence of his imaginary polar bear administrative assistant, and with the miscalculated hiring of a new, tangerine-smelling assistant, nutty Molly Moskins, Timmy's own ignorance has left him, well, clueless.
This graphic novel, with its wise cracks, sarcasm and quirky comic brilliance, as well as its more poignant themes of changes to family dynamics, personal vulnerabilities, loyalty and determination, is a candid delight for readers from age eight. And Timmy enthusiasts will be ecstatic to learn that there is a Hollywood film in the works! The dedicated website also features free activities and games.
Reviewed by Romi Sharp