Alister Nicholson (text) and Tom Jellett (illustrator), Cricket, I Just Love It!, Allen & Unwin, November 2021, 32 pp., RRP $19.99 (hbk), ISBN 9781760526801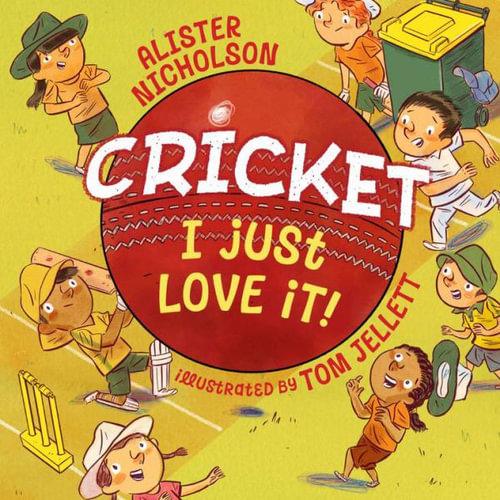 From makeshift wickets to mixed gender teams and supportive kid's Dads stepping in as umpires for weekend matches, this is a book that celebrates cricket as a sport for all ages, written by a cricket- loving ABC sports broadcaster.
Cricket has been an important part of the Australian way of life for over a century. Cricket is our nation's main summer sport in terms of participants, spectators, and media coverage. The position of Australian Test cricket captain is regarded as one of the most important roles in Australian sport.
The precious baggy green is the pride of all our nation.
A sacred, sweat-soaked cap; a source of inspiration.
Alister Nicholson has successfully conveyed his love and passion for the game of cricket in this feel-good children's picture book. Whether it is the Boxing Day Test or beach cricket, readers will most certainly 'hear' the reverberating cry of 'HOWZAT' as they turn the pages over.
Cricket, WE just love it! A great game for us all!
Girls and boys, the young and old, the big and very small!
On wheels, bare feet, and four legs two, no matter what your style. Get out, enjoy some cricket …it's sure to make you smile.
Opportunities abound for teachers to utilise this book to explore topics such as inclusivity, gender, multiculturalism, teamwork and the role of sport in living an active and health lifestyle. Nicholson gives each character/player the opportunity to verbalise why they love cricket. Teachers can ask their students about team sports they enjoy and why. Even if this is your first foray into the world of cricket, there is a glossary of cricket terms at the beginning of the book, with easy-to-understand explanations. So helpful! The diagram of the field positions of a cricket team is also very informative. The fun cricket facts at the end of this story add to the overall feeling of enjoyment and joy.
Tom Jellett has illustrated a number of books for children including Whale in the Bath by Kylie Westaway, The Gobbledygook is Eating a Book by Justine Clarke and Arthur Baysting, and My Dad Thinks He's Funny by Katrina Germein. In Cricket, I Just Love It!, Jellett's Illustrations of  familiar Australian settings such as the school playground, a green and lush cricket field, a suburban backyard and a beautiful beach on a picture- perfect day, Jellet reinforces the book's main theme that Cricket has no 'boundaries', and that it can be played by anyone, anywhere, anytime.
And as a bonus, once readers have read the book, they have the opportunity to hear a real-life cricket commentator tell his story. Towards the end of the book there's a QR code. Simply ask an adult to hold their phone over this QR code or go to the publisher website link, and author, Alister Nicholson, will read his words aloud.
Recommended for ages 4+ years.
Reviewed by Julie Deane