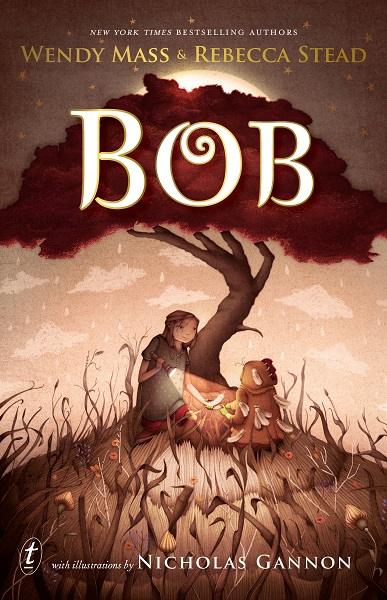 Wendy Mass & Rebecca Stead (text), Nicholas Gannon (illus.), Bob, Text Publishing, 30 April 2018, 208pp., $16.99 (pbk),  ISBN: 9781925603590 
Bob was a charming delight of a book to read. The voices of both Livy and Bob were so strong in my head that I would love to hear it in audio book format or read aloud.
Livy last visited her grandmother in Australia five years ago, when she was five, and she doesn't remember much about it. She definitely doesn't remember the strange little green creature in the chicken suit who has been waiting in the wardrobe all that time for her to come back. But Bob remembers her.
He doesn't remember much else, though. Together they start to piece together the clues to work out who Bob is and where he comes from.
The chapters are told in first-person turn by turn between Livy and Bob, and each of them has their own quirky voice and their own vivid personality. Livy has changed and grown in the five years she's been away, and Bob is the set of eyes through which her changes are seen, but Bob has also learned a lot in that time. What seems terrible – Bob has been hiding in a wardrobe for five years, forgotten and neglected by Livy and not knowing who or what he is – has actually also been a time of growth and learning for both of them. This comes into play even more clearly at the end.
The Australian landscape of this story has its own distinct role, and is beautifully drawn in a few words. From the drought-stricken fields to the walk through the one-street town, I could see it clearly, and the subtle metaphors embedded in the setting of the story and the weather adds depth to a deceptively simple story.
There are themes of identity and family love and place here, and a reflection on who we were, who we are, and who we choose to become. Bob's oddball naivety hides a wisdom that resonated. But the best of Bob and Livy's story is that it made me smile, and I think that young readers, particularly girls aged 8 to 10 would appreciate this book. I would even suggest it for mature 6 or 7 year olds for a read-aloud story.
Teaching Notes can be found on the Text Publishing website.
Reviewed by Emily Clarke