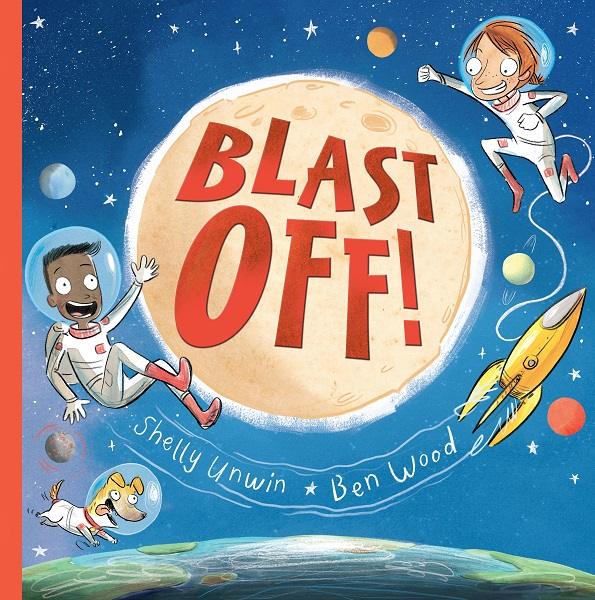 Shelly Unwin (text) Ben Wood (illus.), Blast Off!, Random House Australia, 30 April 2018, 32pp., $19.99 (hbk), ISBN: 9780143785040
Using humour in the text and illustrations, this is a fun journey through space for young children to discover simple facts about our solar system. Two children and a dog blast off in a rocket into space to visit each planet and the reader is invited to explore with them. Beginning with the covers and endpapers and through every page of the text there is a sense of adventure, action and space travel.
The entertaining text by Shelly Unwin is written in rhyme with funny asides in speech bubbles – even the dog has amusing comments to make. The illustrations by Ben Wood are energetic, cartoon-like sketches often standing out in black and blue backgrounds. There is plenty of movement in the illustrations capturing the flight of the rocket ship as the reader travels across the pages with the characters discovering each new planet and what makes it unique. A strip across the bottom of the pages shows the distance from the sun to the various planets with a red arrow indicating which planet in the line-up is being visited by the crew. Two double page spreads at the end of the book extend the knowledge of the reader by providing an illustration and factual information about each planet.
Young children will enjoy learning about space with this interesting and engaging picture book. Blast Off is a fun and humorous exploration of our solar system suitable for children from 5 to 8 years old.
An Activity Pack is available on the Penguin Random House website.
Reviewed by Grace Nolan