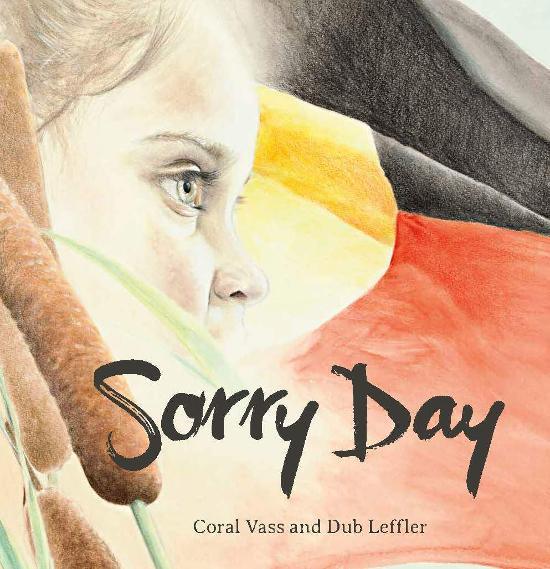 Coral Vass (text) Dub Leffler (illus.), Sorry Day, National Library of Australia Publishing, 1 April 2018, 34pp., $24.99 (hbk), ISBN 9780642279033
Fear and panic as Maggie slips, lets go of her mother's hand and loses sight of her in the "sea of legs". She is in the crowd which waits expectantly to hear the Prime Minister's apology speech to the Stolen Generations and their families. Frantically she searches for her mother's loving touch. It has only been a moment but the pain has been sharp and real. On the next page we see the legs and heavy boots of white men searching for the indigenous children who hide, trembling, in the bulrushes.
Coral Vass and Dub Leffler have produced an inspirational book that tells the story of the Stolen Generations in a simple yet insightful way. The text is sparse, the illustrations striking, making the events poignant and memorable. Two connected stories run parallel in this moving picture book and are told on alternate page openings. In the present the young girl, Maggie, is attending Sorry Day with her mother while, in the past, young children are snatched from their mothers as they play innocently in their native bushland.
The modern story is illustrated in soft pencil and watercolours using pinks, blues and greens on a white background. The story from the past – although we are reminded it was not so long ago – is depicted in sepia which gives the events a feeling of historic authenticity. It accentuates the fear as children hide in the mud to escape being caught and the plight of the mothers desperately chasing after the trucks into which their children have been herded like cattle.
An impressive fold-out montage at the end melds the two stories, as both text and illustrations combine to bring past, present and future together with sepia tones slowly changing to colour. Two pages of photos and information about Sorry Day round off the text with an important message of acknowledging our past so that true change for the better can begin.
This beautiful book is suitable for children from Grade 2 to Lower Secondary and is invaluable for teaching about the Stolen Generations. It opens the way to helping us understand the pain and trauma of the forced separation inflicted on Aboriginal and Torres Strait Islander children and their families which spans over many generations and still reverberates in our society today. It gives a perceptive insight into the mistakes and misguided beliefs which led to the injustices of the past, but ultimately Sorry Day is a message of healing and hope for the future.
Reviewed by Grace Nolan