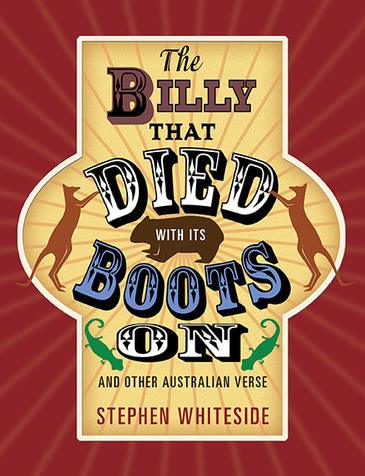 WHITESIDE, Stephen (text) Lauren Merrick (illus.) The Billy That Died With Its Boots On Walker, 2014 154pp $19.95 pbk ISBN 9781922077431 SCIS 1657953
This is a book for every primary school classroom – a wonderful resource for introducing children to well constructed and entertaining Australian poetry.  The anthology is divided into fifteen themes covering topics from dinosaurs to football to national heroes, all written with gentle humour and charm.  Banjo Paterson and C.J.  Dennis have been Stephen Whiteside's inspiration and their influence is evident as his poems bounce along happily with flawless rhyme and rhythm while offering quirky and insightful perceptions about nature, history, sport and numerous everyday topics.  A distinctly Australian flavour permeates this anthology and there is an appealing larrikin lightheartedness even when dealing with serious topics such as death and decay.  The black and white illustrations and line drawings stylishly capture this spirit and unobtrusively complement the text to perfection.
The Billy That Died With Its Boots On is a refreshing, modern look at topics that interest children.  These original Australian poems scan beautifully, pleasing the ear with their lyrical quality and begging to be read aloud or in groups.  Whiteside's poetry can be enjoyed by all ages and can be dipped into at random, or you may find, as I did, that you will enjoy reading it cover to cover.
reviewed by John Nolan