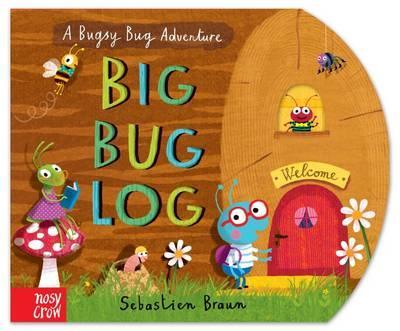 Sebastian Braun, Big Bug Log: a Bugsy Bug adventure, Nosy Crow, 23 March 2016, 18pp.,  $14.99 (board book),  ISBN: 9780857635969
This adorable board book had me grinning from ear-to-ear. A combination of look-and-find and lift-the-flap, Big Bug Log is a fun way for littlies to practice simple literacy and numeracy, and shape and colour recognition, all while having bucket loads of fun!
Bugsy the Bug is looking for his Granny's House. He begins his advenutre in the hotel-style lobby of the Big Bug Log where he is told to 'Go through the door by the bee in a bow tie'. There are three lift-the-flap doors, with one leading to the next page.
Each double-page spread shows a different location that Bugsy passes through. A simple clue is given to help him find the correct door in each place to take him to the next stop. On his journey he passes through a shopping centre, restarant and library, past some sleeping bugs and a spider web before finally arriving at Granny's house for a lovely, happy ending.
Children will have fun with these simple guessing games and will enjoy lifting the flaps to see what's behind each door. The illustrations are vibrant and colourful and the wonderfully detailed scenes are buzzing with activity. There's also plenty of humour that will have little ones in stiches; the incorrect door in the restarant, for example, reveals a startled bug sitting on the toilet!
This fantastic book will keep pre-schoolers and young primary schoolers busy. It would also make a great one-on-one lap read for little ones who might need help lifting the flaps and reading the story. This is a book to pore over again and again.
Reviewed by Melinda Allan