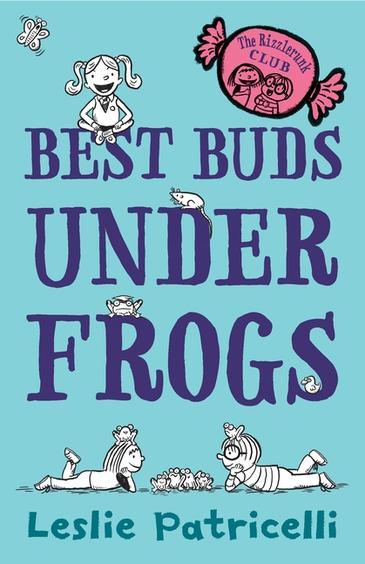 Leslie Patricelli, Best Buds Under Frogs (The Rizzlerunk Club #1), Candlewick Press/Walker Books Australia, 1 May 2018, 288pp., $19.99 (hbk) ISBN 9780763651046
Lily is nervous about starting school, but that queasy feeling in her tummy isn't just nerves. On her first day, she vomits in front of all her new classmates. She is mortified. And worried no-one will want to be friends with her.
Despite the opening vomit scene, this really is a lovely story that will resonate with young readers. It's recommended for ages 7-10 and I reckon that's about right. Friendships seem to become more complicated somewhere around the middle of primary school. Children move away from playing with anyone to choosing their playmates, with many pairing up and becoming "best friends" – which means some kids are left out.
As Lily tries to fit in to her new school, the reader is privy to her thoughts about potential friends and existing cliques, and her fears no-one will like her. She does make friends and forms The Rizzlerunk Club, with Darby, who shows her how to catch frogs at the lake. But it's not all smooth-sailing. Along with Lily, young readers will see what it's like to be excluded and replaced and to feel lonely and jealous. In trying to fit in, Lily is led astray by a mischievous "friend" and has to decide whether to go along with the crowd or do what she thinks is right. There's an embarrassing incident involving social media too, which is a vital warning for children.
This book is brimming with age-appropriate lessons about growing up, wrapped in a heart-warming story about friendship that kids will want to read. My nine-year-old accidentally left her copy at a friend's house and her pal scooped it up and read it before giving it back!
The book is divided into 30 bite-sized chapters with fun black and white illustrations on most pages and a cute comic about growing friends at the end.
The author has written a stack of popular board books and this is her first novel. It is inspired by her own experience changing schools in Year 4 and the character Darby is based on her fourth grade best friend, who still is her best mate.
Reviewed by Carissa Mason