Monkey on the Run, was originally published in 2018 as 'Aap op Straat', and this year Gecko Press published the translated English version. A process which I appreciated, but almost seemed unnecessary given it is a wordless picture book.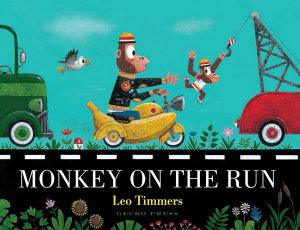 The story revolves around a cheeky young monkey who escapes from Dad on the way home. We follow the monkey as he interacts with other animal characters in a wide variety of vehicles and situations. The detail in Leo's hand painted pictures is, quite frankly, expert level. We enjoyed this book dozens of times and would still find little hidden gems. Like finding the monkey had changed clothes and noticing what happened to the old set. Or spotting the live television stream from the news van being shown on a TV in another vehicle.
This book is designed in such a way that very young children will enjoy it, especially those with an interest in vehicles and things that move. They will be able to point out the bus, rubbish truck, forklift and crane, as well as naming all the different animals: lion, giraffe, moose, rabbits, crocodile and goat. However, I can promise that my primary school aged kids also love this book.
It sounds counter intuitive, but we have spent hours 'reading' this book with no words. It is precisely because there is no prescribed text that we take time to talk to each other about the story, suggesting different possible stories within the main story, or trying to find something we hadn't noticed before to give us clues about the characters.
The Gift, written and illustrated by Michael Speechley
At the CBAC National Conference in Canberra I had the opportunity to meet Michael Speechley and read his, then unpublished, 2019 picture book, The Gift. As I read this beautiful book in the trade hall I had to hold back the tears. The story features a lonely young girl, Rosie, who misses her mother and the time spent gardening with her. As an example to us all, Rosie looks outside herself in her grief to someone else who might need her help.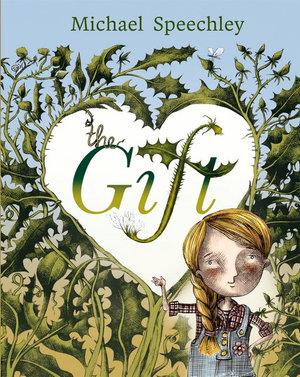 The first reading with my kids, when only I knew what 'the gift' was, was just delightful. I love trying to get my kids to guess what 'the gift' would be.
There are many discussions you could have with your children that naturally flow in from reading The Gift. You'll be able to talk about their ability to serve and help others, that age is no barrier to acts of kindness, the friendships take time to develop and the loneliness is common but curable.
In short, I really loved it. It's one of those great books that will reveal its story to kids as they mature. The 2-4 year olds will enjoy the engaging illustrations, the 5-8 year olds will begin to understand the plot and appreciate the twist, and older children will be able to 'read' the implied story.
The Wild Robot and The Wild Robot Escapes, written and illustrated by Peter Brown
This is a sneaky one, both were actually published last year, the first in January and the sequel in August, but I had to include them as they are THE BEST BOOKS we read this year. We read them as a family read aloud, meaning I read them out loud in multiple sessions to my 2 pre-schoolers and 2 primary schoolers, usually as they ate breakfast. Yes, I know the pre-schoolers won't remember it, but they loved the process.
The story is set on a remote island, devoid of human inhabitants but with an abundance of animal life. A ship wrecks nearby and from the washed up debris we meet a robot which has a human form (head, body, 2 legs, 2 arms and walks upright) but which has no knowledge of where she originated, how she got to the island and what she should be doing there.
We journey with the robot, Roz, as she learns various lessons about living in the wild. She learns about how to keep herself safe and what her limits are. She learns about her animal neighbours and interacts with them, offering them help and receiving help from them in return.
After the tragic deaths of his parents and siblings, Roz assumes mothering duties for a baby gosling who she names Brightbill. With help, she is able to nourish and nurture the runty bird and he grows to be a strong healthy goose who faces the tough decision about flying south with the clock at the first signs of winter.
Roz's greatest challenge is facing 3 bigger stronger robots who fly to the island with the mission of reclaiming her and returning her to the manufacturer. Fortunately, by this time, she has assimilated so well to wild island living and her relationships with the other inhabitants are strong that she has a chance of survival.
This book contains some deep and important themes, such as death and birth, purpose and progress, adoption, motherhood, overcoming challenges and community. However, because the characters weren't human it make those themes easier to expose to children.
The sequel, The Wild Robot Escapes, was equally as well written and captivating as the original. Roz finds herself amongst humans and we get to see how she builds relationships and contemplates the life she wants.
I cannot recommend these books highly enough. My kids were so invested in and engaged by the story; they just loved Roz and still talk about her occasionally, months after the fact.
My special mentions for other books I totally loved this year: