Kate Viggers, Almost an Animal Alphabet, Laurence King Publishing, October 2019, 56 pp., RRP $19.99 (hbk), ISBN 9781786275615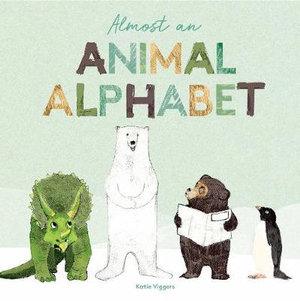 Almost an Animal Alphabet dedicates each double spread page to a letter of the alphabet and an animal that starts with that letter – with the exception of "u" being for underground (as in underground animal burrows), "n" being for night-time, and "x" being for x-ray (as in a bear holding up an x-ray plate of its skeleton).  
Besides introducing little ones to names of lesser known animals, such as iguanas and llamas, as well as the names of some animal sub-species, the text is unremarkable. It is however, the quirky and expressive illustrations that make this a charming and enjoyable book. Water colour and charcoal drawings depict animals with anthropomorphised body language and facial expressions and adorned with human clothing or artefacts. From the Asian black bear drawn with hands on its hips, to llama with a bemused, curious expression on its face, to the hooded vulture with hunched shoulders and the king penguin with its beak haughtily upturned and wearing a crown – each of the animals seems to have a character and personality of its own. The illustrations also expertly evoke a kinaesthetic sense of texture, with smudged, soft charcoal or pencil lines for feathers or soft fur and dark or hard lines conveying coarse, rough textures and sleeker water colour with clearly defined lines for smooth textures.
I recommend this book for 3 – 5 year olds who are keen to learn the alphabet and the names of animals. The adults who read to them will enjoy the amusing and lovely illustrations.
Reviewed by Barbara Swartz