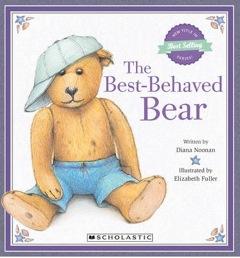 NOONAN, Diana (text) Elizabeth Fuller (illus.) The Best-Behaved Bear Scholastic (NZ), 2014 unpaged NZ$19.50 pbk ISBN 9781775431879 SCIS 1651148
Here is another title in this popular series.  The teddy bear is an icon of childhood and the necessity for children to feel comfort and safety.  Hence Tim really wants to take Toby, his teddy bear, to a remote Pacific island where Aunty Sue is about to get married.  When it comes to the paraphernalia of weddings, how can you squeeze a teddy bear in to the luggage?  This is Toby's problem and he finds, eventually, a solution.  But it has unforeseen consequences.  Thankfully, Aunty Sue is full of good will, given the occasion, and all is well.
What stands out for me in this picture book is the art style and techniques of the illustrator.  What we have here is the soft textured palette of paste/crayon where cross-hatching and softly coloured lines evoke poetic imagery.  Given the teddy bear as character and associations of sleep and comfort, image and narrative complement each other well in this text.  Recommended for young lads who have teddy bears and parents who want to hug them!
reviewed by John McKenzie