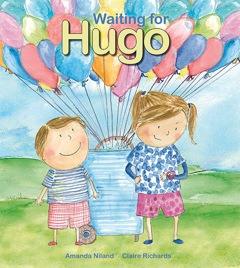 NILAND, Amanda (text) Claire Richards (illus.) Waiting for Hugo Windy Hollow, 2013 unpaged $25.95 ISBN 9781922081216 SCIS 1635044
Although he only turned four last month, Hugo loves to count things.  This can be frustrating for his big sister and his family, who have trouble getting Hugo to hurry up.  When the family go to the school fair, his sister has to wait for ages, but in the end, Hugo's obsessive counting turns out to be a very worthwhile talent.
Both text and illustrations beautifully convey a feeling of warmth and caring love as the family accommodate Hugo's fixation on counting with gentle tolerance.  Depicting a boy with autism spectrum disorder, this delightful book is enlivened by humour in the charming illustrations which capture Hugo's neatness and logic as he mentally groups the things he is counting, and as his counting feats get ever bigger and more complex.  Ultimately the reader shares the joy of the kids having fun at home, at school, or just bouncing – 69 exuberant star jumps, counted by Hugo!  Highly recommended.
reviewed by Chloë Mauger