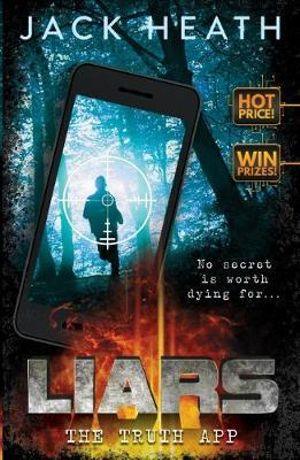 Jack Heath, The Truth App (Liars, #1), Scholastic Australia, September 2018, 240 pp., RRP $9.99 (pbk), ISBN 9781743817766
The Truth App is the first instalment of the Liars five-book series by best-selling teen author, Jack Heath. The subsequent books in the series (No Survivors, The Set-Up, Lockdown, and Armageddon) will follow shortly and are set to be as heart-stopping and technologically accomplished as book one.
The old man was now so close that he couldn't miss. He raised his pistol and took aim at Jarli. So Jarli jumped off the cliff.
This action-packed story follows teenage app developer Jarli, whose life quickly spirals out of control when a preliminary version of his Truth App goes viral and becomes the latest craze.
Jarli becomes a celebrity overnight and before he has time to process any of it, his app, which uses voice analysing technology to determine if a person is lying, is being upgraded and sold by third parties and used by everybody in his hometown of Kelton. Unfortunately for Jarli, being the creator of an app that exposes everybody's darkest secrets and makes a truthfulness rating system possible on social media, puts him in grave danger. The national press are desperate to track him down, and everybody from the kids at school to Kelton's criminal underworld are out to get him.
This title's characters are plucky, quick thinking, and easily relatable, and the story itself has plenty of exciting twists and unexpected turns. Each short chapter moves the plot forward at breakneck speed and leads Jarli and his friends deeper into the mysterious criminal underworld that simmers just beneath Kelton's misleading, small town exterior.
After learning the truth about his father's secretive job and befriending the intriguing yet tight-lipped Anya, the logic that once dictated Jarli's clear-cut views about secrets and lies is becoming increasingly confused. Jarli is beginning to realise that the truth doesn't always set you free and that in many ways trust can be more important than truth.
As the web of deceit unravels, the reader is left wondering who can be trusted and if Jarli's app, along with the deadly hitman who is hunting him, are just the beginning of the evil criminal mastery at play.
An ideal title for independent upper primary and secondary school readers who enjoy non-stop action adventure, mystery, and techno-thrillers.
Reviewed by Lisa Hoad