Rebecca Johnson (text) and Lucia Masciullo (illustrator), Aussie Kids: Meet Katie at the Beach, Puffin Books, March 2020, 64 pp., RRP $12.99 (pbk), ISBN 9781760893675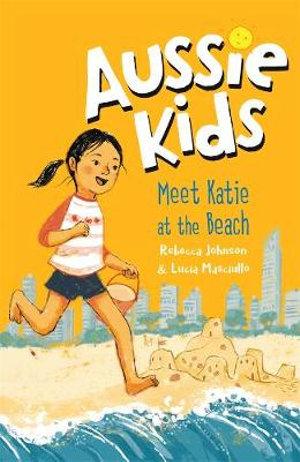 Aussie Kids is a series of eight books – one for each state and territory – written for emerging readers aged 6 to 8. Each has a different author and illustrator, which should ensure a level of variety within the template of the series. 
Rebecca Johnson and Lucia Masciullo are author and illustrator, respectively, of Meet Katie at the Beach. Set on the Queensland Gold Coast, Katie and her family head down to the street from their high-rise home to spend a fun day on the beach. Katie has a loose tooth which worries her, but, jollied along by her father, she joins in the fun of the sand and sea until suddenly noticing she has lost the tooth. Then they have to try to find it for the Tooth Fairy! 
Refreshingly, the family depicted in the illustrations has an Asian Australian appearance, adding to the range of diversity represented in the series as a whole. It is a bright and happy story suitable for a classroom library or as a gift for newly independent young readers.
Reviewed by Marita Thomson