Jack Heath, Armageddon (Liars #5), Scholastic Australia, September 2019, 240 pp., RRP $16.99 (pbk), ISBN 9781742993430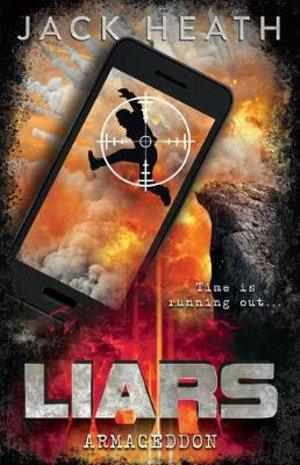 This time villainous Viper's ultimatum to the town of Kelton is simple: This is not a threat. I have no demands. This is a statement of fact. Leave…or die.
Jarli and his friends are in a race against time to stop Viper from destroying their town. But although Jarli and his friends are close to unmasking Viper, Jarli's missing memories have him questioning what he really knows and with Doug trapped in a hidden prison, he needs to make some decisions fast. With the help of tech savvy Bess and mysterious Anya who has some serious fighting skills, Jarli puts his life on the line in a bid to thwart Viper and save his town.
Armageddon is the fifth and final book in the Liars series by Australian thriller specialist Jack Heath. True to form, Heath has delivered another fast paced, action-packed, contemporary thriller for readers aged 10+.
The series expands from its initial premise where Jarli has created a truth app that can detect when someone is lying. This fact that characters can't lie without being caught out creates the need for loads of hidden meanings and half-truths throughout the book. In turn, the author has been quite clever in the way things are revealed and how characters manipulate the truth without technically lying.
Short sharp chapters make it perfect for reluctant readers to consume in bursts and the book's design is appealing and contemporary. From the foil cover to the page design with its techy graphics and dark edges, it's definitely a good-looking book which makes the experience of reading it more enjoyable.
With a male protagonist and focus on fast-paced action, this book is probably targeted more towards male readers, but many girls will enjoy it too. There is good representation of strong, diverse and interesting characters throughout. The fact that it is set in Australia is a big plus too. The ending was satisfying and even if I did have to suspend a wee bit of disbelief, it was appropriate to the genre.
Although this is the last book in the series, new readers are quickly brought up to speed with past events and are engaged in the story from the start. Still, I would suggest reading the five-book series through from start to finish to get the full impact and build-up of tension.
Kids who have enjoyed Heath's 300 minutes of Danger Series or thrillers by Tristan Bancks and Michael Grant will also enjoy this series. A pacey, contemporary thriller for kids aged 10+ and a worthy conclusion to a fabulous series.
Reviewed by Renee Mihulka