Roald Dahl (text) and Quentin Blake (illustrator), Roald Dahl's Beastly Brute and Heroic Human Beans, Puffin Books, August 2019, 64 pp., RRP $32.99 (hbk), ISBN 9781760891589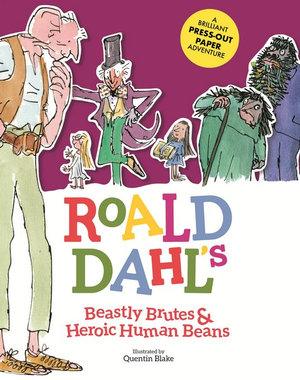 Roald Dahl's Beastly Brutes and Heroic Human Beans delves into four of Dahl's most-loved books to give readers a new perspective on the characters and stories.
In Charlie and the Chocolate Factory, Charlie takes the reader through the story in his own words, as does Sophie in her retelling of The BFG and Matilda in her story. With The Twits we hear bits of the story from several perspectives. Having the characters retell their stories is a good way to summarise the tales, but I felt like some of the magic of Dahl's word craft was unfortunately lost in the first-person prose.
A feature of the book is its thick die-cut sheets and readers are encouraged to press out characters and page edges to create fun and interestingly shaped pages. Readers can then keep the collectable characters they press out in a handy envelope at the back of the book and use them to stimulate some fabulous creative roleplay — what would Matilda say to the BFG or how would Willy Wonka handle Miss Trunchbull? These additions add an element of fun and craft and make this impressive hard cover book a little more special.
The book is illustrated by Quentin Blake, who is synonymous with Roald Dahl's work. There are some illustrations that I recognise from Dahl's original books, but there are some new additions in there are well. It's lovely to see Blake's illustrations in colour and the palettes he's chosen for each story are perfect — school navy blue for Matilda and snotty-greens for The Twits.
Ideally suited for both boys and girls aged 7 -10, this book is great for kids who already love Roald Dahl and are looking to add to their collection with this hands-on, abridged version of some of his most popular stories. Similarly, flipping through these pages may encourage a reluctant reader to take a chance on the longer version.
Reviewed by Renee Mihulka