Christina Booth, Are These Hen's Eggs? Allen & Unwin, February 2020, 32 pp., RRP $24.99 (hbk), ISBN 9781760523497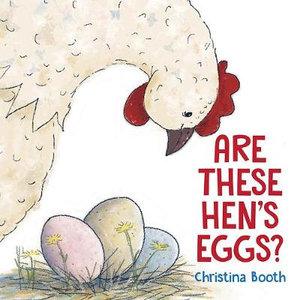 Are These Hen's Eggs? is a sweet tale of friendship and unconditional love written by award-winning author and illustrator, Christina Booth. Having previously trained as a teacher Booth's classic story offers a perfect way to teach essential counting skills and is suitable for children, ages 3-6. 
'One sunset, two, one sunrise more,' counts Hen. 
Soon her eggs will hatch. 
Snuggled down deep, the breeze ruffles her feathers. 
Then the storm comes.  
SNAP! CRACK! BOOM! 
Hen is busy counting down the days until her eggs finally hatch when a wild storm breaks, disturbing the peace of her little farm and scattering her eggs far and wide. The community of animals rush to help her, gathering together a mis-matched clutch of eggs. Hen knows that the eggs are not all hers but she also accepts that she has a very special job to do and happily waits for all the eggs to hatch.
The animals in this picture book are beautifully illustrated using pencil, pastel and watercolours, and the swan, goose, turtle, duck, chicken, owl, cockatoo and magpie eggs from the story are all presented in careful detail in the end pages of the story. Many of the full-colour pages contain engaging onomatopoeia written in giant lettering and brightly-coloured numerals for counting up the eggs.
With touching themes of co-operation and friendship and a delightfully surprising egg hunt, Are These Hen's Eggs? is a wonderfully engaging picture book for very young children.  
Reviewed by Lisa Mercer