Libba Bray, The King of Crows (A Diviners Novel #4), Allen & Unwin, February 2020, 560 pp., RRP $29.99 (pbk), ISBN 9781742375250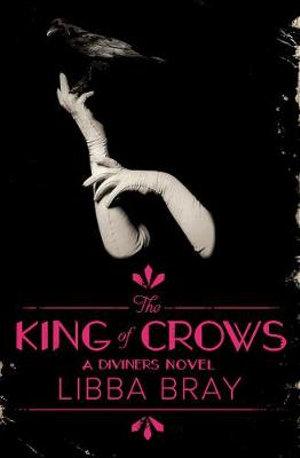 The Diviners series is a popular New York Times bestselling series by Libba Bray, set in a supernatural alternative reality of 1920s New York. The King of Crows is the fourth and final book in this young adult series that first began in 2012 with The Diviners. For this review I am jumping into Book 4 without having read any of the series. 
The Diviners have come together through discovering their unique supernatural powers that include clairvoyance, walking in dreams and raising fire. Starting at the end of a series that has such epic world-building is not easy. There are at least eleven main characters to wrap your imagination around. There is no character list, and there are changes of perspective from each of The Diviners within a chapter. Diviners fans will be familiar with the rhythm of changing perspective as they return to Evie, Memphis, Isaiah, Jericho, Sam, Ling, Henry, Theta, Mabel, Will and Sister Walker as much-loved friends. 
The King of Crows sees The Diviners relentlessly haunted by a gruesome spectre who inhabits the decaying world of the dead. Somehow, The Diviners must find a way to stop The King of Crows raising his grim and ghostly corpse army. He is intent on literally devouring the souls of all humans.
I found it easy to visualise the vast landscapes of 1920s America, but a challenge to visualise each of The Diviners until about half-way into the book. I could sense some thrilling and heartfelt threads and twists being woven in this final instalment. I could almost understand the complicated relationships that were the journey of previous books. As a stand-alone novel, it was the relationship between Ling and Alma that stood out as uniquely beautiful. It demonstrates Bray's ability to write about inclusive love. There was an insight into Ling's inner turmoil in how she grapples with the expectation and convention of how to express love. I would recommend that to get the most of out of these deeper storylines, readers start at the beginning of this series.
I was worried that this book would be too occult and paranormal for me. It was a relief to find it perfectly haunting without being disturbing. Bray conveys a sense of horror in encountering grim ghosts in the land of the dead, and at the same time paints a vision of macabre beauty. The spooky King of Crows stayed respectfully on the edge of wandering into my own dreams and nightmares.
Bray's ability to describe beauty, darkness and every shadowy grey thing in between in The King of Crows is what kept me reading. She weaves supernatural fantasy remarkably into historical events seamlessly with themes of prejudice, racism and hate crime. Particularly for long-term fans of The Diviners, The King of Crows will provide a satisfying and a thrilling conclusion to a world built with magic in the charm and challenges of 1920s America.
Reviewed by Angela Brown