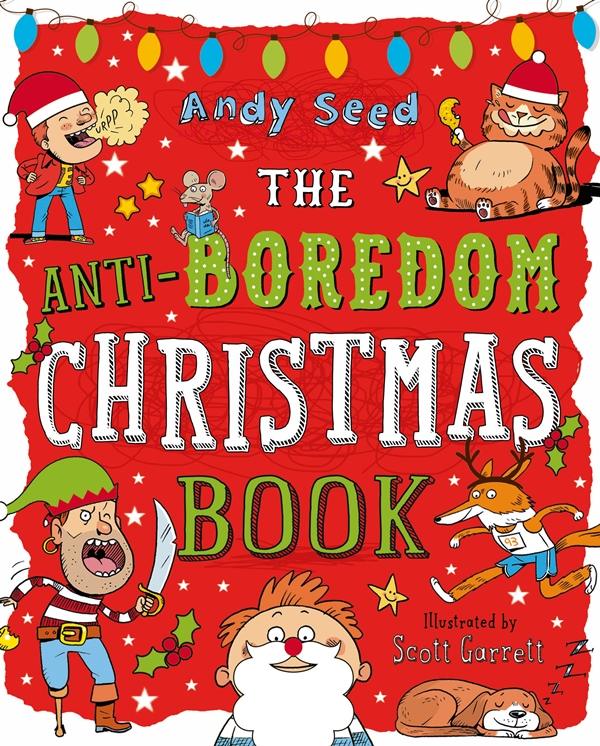 Andy Seed (text),  Scott Garrett (illus.), The Anti-Boredom Christmas Book,  Bloomsbury/Allen & Unwin,  Nov 2016,  160pp.,  $12.99 (pbk),  ISBN: 9781408870105
The Anti-Boredom Christmas Book is the fourth book in Andy Seed's Silly Series, and is jam-packed with amazing facts and fun activities to keep young readers occupied over the festive season. Australian readers will enjoy the cool change from a summer Christmas as the focus is all about cold, snowy, wintery Christmas. The book is both entertaining and instructional, and full of guessing games guaranteed to stump grown-ups in those long, boring car rides to visit relatives.
Did you know that Lego was the most popular Christmas gift in 1974? Or, if you drop fresh cranberries, they will bounce? No, I neither did I. If you like the corny jokes that explode out of Christmas bon-bons, you will love this book. There is even a template to write your own Christmas jokes, and all the instructions to create home made bon-bons.
I did manage to find one reference to Christmas in Australia – in 2013, the Richards family set a new world record by stringing up 518,838 lights on their house in Canberra. Their record was broken the following year by the Gay family in New York. I bet you didn't know that!
Reviewed by Jane O'Connell