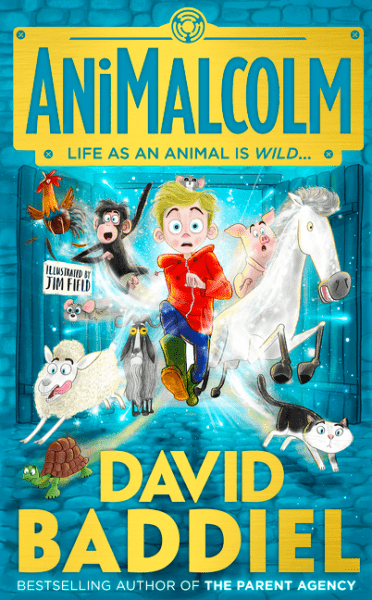 David Baddiel (text),  Jim Field (illus.), AniMalcolm,  HarperCollins Australia,  1 Oct 2016,  352pp.,  $19.99 (pbk),  ISBN: 9780008185152
A vividly appealing cover, an amusing, enjoyable and well-thought out storyline, and a final moral message embedded within the story? Yes, please!
AniMalcolm was, quite frankly, brilliant.
The story is based around a Year Six boy, Malcolm, who was born into a family that adores animals. Only problem is, Malcom doesn't. Really, really doesn't. When his family buy him an Argentinian chinchilla for his birthday instead of the super-cool, latest model laptop, Malcolm is understandably annoyed. After all, the house is already full of animals. And then his parents pay for the Year Six school trip – a three-night stay that's almost as cool as the laptop. Except for the fact that the school trip this year… is to a farm. Once at Orwell Farm, Malcolm asks a goat why he doesn't love animals like everyone else. Is there something wrong with him because he's different? And the goat, misunderstanding because, well, he's a goat, turns Malcolm into an animal himself! What follows is a variety of confusing, somewhat enjoyable, and most certainly hilarious experiences as Malcolm journeys to find a way to turn back into a human.
Footnotes scattered throughout the book offer tasteful sarcasm, jokes, amusing clarifications, and humour. Cartoon-like illustrations accentuate the storyline tastefully, some in amusing ways, and some in ways that further advance the plot. All of the experiences that Malcolm has are carefully thought out, and it shows in the characterisation and character growth throughout the book.
At the conclusion of the book, a loveable moral message has been clearly left behind- finding yourself can sometimes be the hardest quest of all!
Overall, AniMalcolm was well written, well thought-out, and just a great read in general. I thoroughly enjoyed reading the book, and devoured it in two days (as did my 10-year-old younger brother!). The large text makes for an easy read, broken up by fun illustrations. I would highly recommend AniMalcolm to anyone looking for something amusing, enjoyable, and humour-filled- a great read all-in-all.  A marvellous novel for anyone aged 7+
Reviewed by Amy Cooper