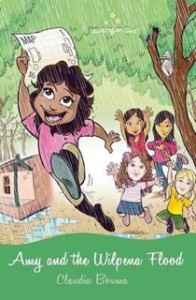 BOUMA, Claudia Amy and the Wilpena Flood Wombat (Australian Girl), 2013 73pp $12.95 pbk ISBN 9781921632358 SCIS 1621318
It's holiday time and Amy's four friends are coming from their homes in Darwin, Sydney and Melbourne to spend a week with her in Adelaide.  The last time they were together they adventured back in time using their magic beads.  Amy and the girls soon find an old map when exploring the vacant block next door and are transported back in history to Wilpena Pond, 1914.  Together they must warn the Hill family of the danger awaiting them, a flash flood.
This is the second in the series, an easy read chapter book.  The five characters are representative of five different cultural backgrounds.  I was intrigued by the concept of a time slip adventure series set in Australia but was disappointed by the bland writing.  The language needs to be lively and vivid.  Every word must have a purpose for being on the page.  This being said, it is presumed the reader has knowledge of the first book in the series.  There needs to be more detail about the circumstances of the 'magic' necklace and how the girls met.  The characters are not well defined, perhaps a little more backstory?  The few cartoon-like black and white illustrations help to differentiate the characters and convey emotion.  There are teaching notes and Australian Girl dolls available.
reviewed by Sharon Seymour