Anh Do (text), and Jeremy Ley (illustrator) , Amazing Ninja! (Ninja Kid #4), Scholastic Australia, August 2019, 192 pp., RRP $14.99 (pbk), ISBN 9781760662837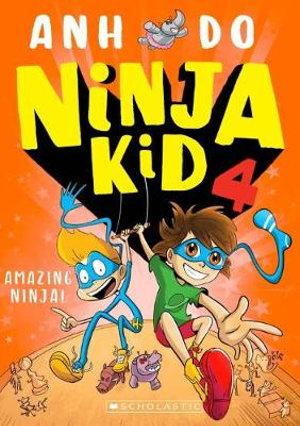 On his tenth birthday Nelson Kane found out he had special secret Ninja skills. Inherited from his father, now mysteriously missing, the only other people who know are his mother, Grandmother and cousin, Kenny. Kenny also has secret skills and turns into H-Dude when Nelson turns into a Ninja. Nelson's father's twin brother, Dr Andrew Kane, did not inherit these special skills and his jealous anger is used to cause trouble. Nelson's Grandmother also has some special skills, inventing weird and wonderful things, not all of them successful. When the circus comes to town the boys and their classmates try out for the auditions to perform. Meanwhile, Grandma is at her inventing again, this time creating a machine where the user can converse with animals. This comes in handy, as when the circus arrives and there appears to be a rogue animal, Ninjas Kid and H-Dude can spring into action with some extra help.
This fun illustrated novel is perfect for newly independent readers. The illustrations will support readers as well as entertain. Variations in the font add to the character of the narrative emphasising actions and sounds. Engaging from the beginning, this book has interesting characters and inventions to sustain interest.
Highly recommended, this series will be a favourite for many.
Reviewed by Liz Derouet