Stephanie Ward (text), Shaney Hyde (illustrator), Arabella and the Magic Pencil, EK Books, September 2019, 32 pp., RRP $24.99 (hbk), ISBN 9781925820010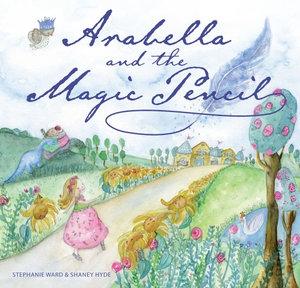 The arrival of a baby brother or sister is a recurring theme in picture books for young children and Arabella and the Magic Pencil addresses many of the concerns that arise in the firstborn child when a new baby comes along. However, not many big sisters are princesses like Arabella.
Her parents are a duke and duchess (I'm not sure that makes her correct title 'princess') and by royal decree she is granted one wish each year. Typical wishes which have come true are a pink puppy, a real fairy and the latest – a magic pencil. Anything Arabella draws with the pencil becomes real. This effectively means that her wishes constantly come true if she draws them.
The problem arises with baby brother Avery, which is summed up very neatly in this sentence: "Arabella loved Avery, of course, but it was sometimes very difficult to like him." After one particularly exasperating occasion, Arabella grabs her pencil, turns it around and erases him! The rest of the book shows how she misses him and resolves to get him back.
This is the first book that Shaney Hyde has illustrated. She is an early childhood teacher who runs art workshops for children. The illustrations enhance the text by showing details that are not mentioned in words and should amuse young readers.
Reviewed by Lynne Babbage