Erik J. Brown, All That's Left in the World, Hachette, March 2022, 304 pp., RRP $17.99 (pbk), ISBN 9781444960167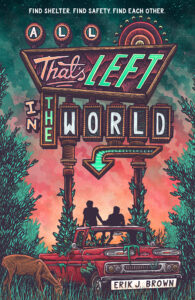 After the Superflu wiped out most of the population, Jamie finds himself completely and utterly alone. At least, that is until an injured Andrew stumbles across his cabin in the woods looking for help. Jamie has plenty reason to fear desperate strangers, but something about Andrew makes him want to help. As Andrew strengthens, so too does their friendship, and it becomes hard to imagine being alone again. When they eventually step out into a strange new world together, a world torn apart where the normal rules don't apply, they must rely on each other to survive. They don't know what they'll find out there… but they may just find each other.
This sweet, heart-wrenching novel deftly delves into the difficulties of navigating grief, guilt, and regret in a treacherous new world. The book alternates between the perspectives of two teenage boys; sarcastic chatterbox Andrew, who uses comedy as a coping mechanism, and strong yet gentle, kindhearted Jamie. Amidst the fictional setting, the book explores some very real queer experiences in a beautifully written slow-burn romance.
An absorbing, thrilling, sad and sweet YA novel, I loved following Andrew and Jamie through their perilous journey to find hope and love. If you're looking for a touching, queer, post-apocalyptic story, All That's Left in the World by Erik J Brown is for you.
Reviewed by Libby Boas