Rhiannon Fielding (text) and Chris Chatterton (illustrator), Little Dinosaur (Ten Minutes to Bedtime), Penguin Random House, February 2022, 28 pp., RRP $14.99 (board), ISBN 9780241532676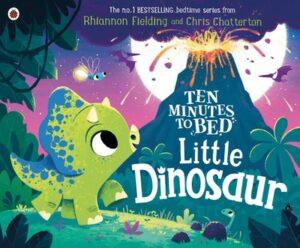 Rumble the dinosaur loves to have fun.
Every night before he goes to sleep, he explores the jungle, and goes on a wild adventure, having fun with his friends. He plays in the mud until a roar in the night lights up the sky.
Will Rumble find his adventure and make it back in time for bed?
Rhiannon Fielding has once again created a great addition to the Ten Minutes to Bed series.
The rhythmic rhyme and adventure of Little Dinosaur makes for a charming read. Chris Chatterton's illustrations, capturing day and night, adds to the story in a colourful and meaningful way. Readers will love Rumble the triceratops and his exciting adventures, with themes such as adventure, family, and friends central to the story.
The ten-minute countdown is familiar to many educators and parents, to prepare young children for activities such as getting ready for play or naptime, and Little Dinosaur does a wonderful job of capturing the countdown in story form – from a lively beginning to a gentle ending.
Each book in the series includes a day map of The Land of Nod at the beginning that can help develop spatial skills by locating places on the day map before the story even begins. A night map of The Land of Nod concludes the book with its dark, soothing colours to signal bedtime at the end of the story.
Delightful and engaging, Little Dinosaur is just the right amount of fun for little readers before nap or bedtime.
Reviewed by Shelley Stephens