Jacqueline Harvey (text) and Kate Isobel Scott (illustrator), That Cat, Penguin Random House Australia, March 2022, 24 pp., RRP $19.99 (hbk), ISBN 9781761040702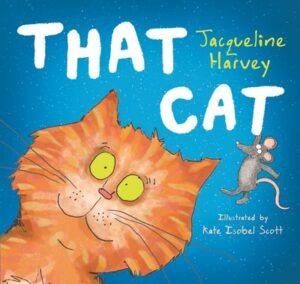 That Cat is a simple rhyming story which captures many different types of cats.
There are brat cats and fat cats, rat cats and mat cats… but if there's one cat everyone knows, it's THAT CAT. 
Each page introduces us to a new type of cat, whether it be Mat Cat doing some flexible yoga poses, Fat Cat surrounded by tins of tuna, or my favourite; Bat Cat – a ginger cat dressed as Batman.
Featured throughout the book are also a pack of rats who each have their own characters and roles to play in the illustration.
Humorous and inviting, That Cat is sure to please readers young and old.
Reviewed by Raquel Mayman