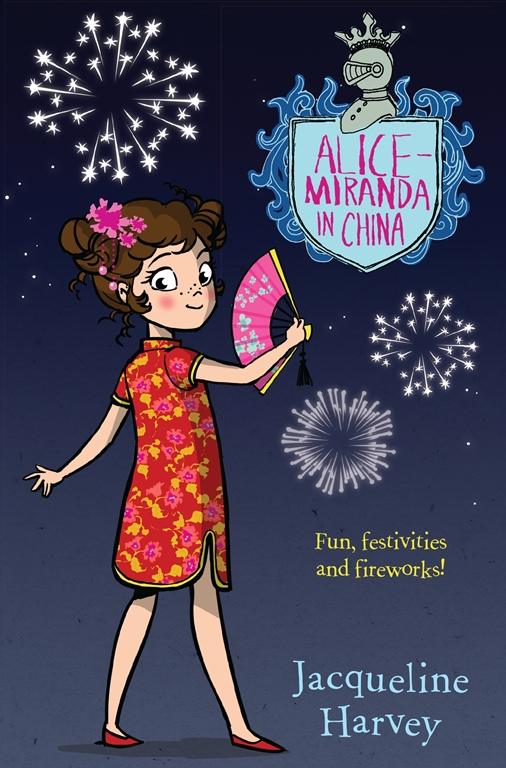 Jacqueline Harvey,  Alice-Miranda in China (Alice-Miranda #14),  Random House Australia,  29 August 2016,  358pp.,  $16.99 (pbk),  ISBN: 9780857985200
Alice

–

Miranda

 Highton-Smith-Ke

nnington-Jones heads to China in the latest book by multi-award-winning author Jacqueline Harvey.

Alice

–

Miranda

 in China, 

the fourteenth book in the series, follows 

Alice

–

Miranda

 and her schoolmates on a whirlwind school trip to Hong Kong, Shanghai, and Beijing. With a mix of sightseeing, acrobatics, hilarious parenting mishaps and mystery, the students of Winchesterfield-Downsfordvale Academy for Proper Young Ladies, together with a few friends from Fayle School for Boys, experience the wonders of China while uncovering an evil plan to steal priceless artifacts. 

Alice

–

Miranda

 

inadvertently becomes part of the heist, but helps bring the perpetrators to justice, and makes a lasting impression on all those she meets.
With a cultural exchange between students at the heart of this story, young readers will see more than just the sites in 

Alice

–

Miranda

 in China.

Most intriguing, perhaps, is the talented Wong family of acrobats with young Sunny as the star of the show. Contrasting with the uber wealthy Fang family, the Wongs live a modest life in the

hutongs,

where Alice-Miranda experiences life without indoor plumbing, and the fun of riding through narrow alleyways on trishaws. The Bright Star Academy in Beijing is also a surprise with its modern equipment and futuristic facilities that even entrance the visiting staff members. Plus, the mouthwatering food described throughout evokes a real sense of place, and immerses readers in Chinese culture.
From hilarious antics, like smuggling goldfish through airport security, to odd adult behaviour (losing a metallic platform trainer in the loo, anyone?), Alice-Miranda in China is highly entertaining and hard to put down. And the fantastic names throughout the story — Ambrosia Headlington Bear, Professor Winterbottom, Ophelia Grimm, etc. — are sure to bring a smile to readers.
I certainly recommend
Alice-Miranda in China
for primary schoolers, especially those studying or traveling to China. Additionally, there is a wealth of information and activities to supplement readings on the
author's entertaining website
.
Reviewed by Stephanie Ward