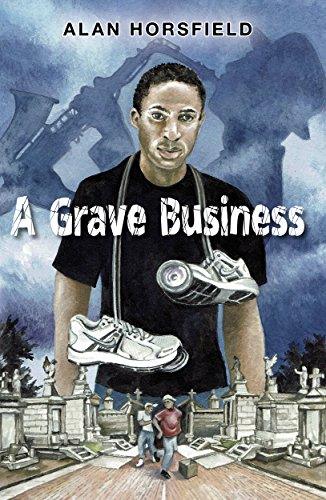 Alan Horsfield, A Grave Business,  self-published,  April 2016,  116pp.,  $12.95 (pbk),  ISBN: 9780994457929
A Grave Business is a mystery set in The French Quarter of New Orleans, Louisiana. Xavier and Lincoln are teenage street entertainers, tap dancing for tourists to earn extra cash in the school holidays. When Xavier's dad is accidentally sent an email that contains a cryptic code, the boys set out to unravel the mystery. They uncover a series of clues leading them across the famous Mississippi River to the local cemetery where they suspect a major crime is about to take place.  The teenage detectives soon attract the attention of the notorious Neville brothers who do their best to scare them off, but Xav and Linc are determined to solve the case.
The story has some mildly creepy moments with references to voodoo and midnight adventures amongst the crypts and graves. Xav's habit of saying the wrong thing at the wrong time puts them in danger on more than one occasion, and almost reveals their investigations to the crooks behind the scam.
Can the boys figure out the connection between the red pick-up truck, the local antique shop and a series of odd advertisements in the newspaper before it's too late?
A Grave Business hums along nicely, with short chapters and a number of plot twists and hair-raising chase scenes to keep older readers interested.
Reviewed by Jane O'Connell