Jacqueline Harvey, Alice-Miranda at School (10th Anniversary edition), Puffin, February, 2020, 288 pp., $19.99 (hbk), ISBN 9781760896034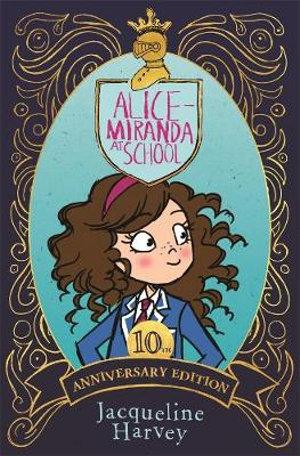 I have read and reviewed other Alice-Miranda stories in the past, but this is the first time I have read the one which began the series and I enjoyed it very much. Alice-Miranda Highton-Smith-Kennington-Jones is an endearing character who has a profound effect on all she meets. She radiates goodness and positivity, finding the best in others. 
In this story, Alice-Miranda implores her parents to send her to boarding school and is very excited to be there. But not all is well at Winchesterfield-Downsfordvale Academy for Proper Young Ladies. Why does Miss Grimm, the headmistress, hide away in her room and why is she so set against Alice-Miranda? When Miss Grimm sets her a series of academic, endurance and sporting tests, Alice-Miranda is happy to comply, and instead of being upset at Grimm's unfairness, she feels sorry for her and wants to help her. Could the stranger who has been lurking around the school hold the key?
Harvey's tongue-in-cheek humour begins with her use of long hyphenated and multisyllabic names and the notion that this cheerful, talented, good-looking, precocious child is just seven and one quarter years old. Although she has lived the kind of fortunate life that comes from wealth, she is refreshingly unaffected and, having travelled extensively, is educated in the ways of the world. With unlimited resources at her fingertips, Alice-Miranda manages to overcome any obstacles that come her way. Alice-Miranda's world is certainly not one that most children would ever experience, yet Alice-Miranda's infectious optimism makes her a much loved character.
The series is a favourite with primary students in my library and indeed is popular worldwide. The storytelling has an old-fashioned feel. There is something safe and warm and comfortable about picking up an Alice-Miranda book. I absolutely love the look and feel of this tenth anniversary edition hardback. Cloth bound, embossed in gold, it perfectly suits the world Alice-Miranda inhabits. Congratulations Jacqueline and Alice-Miranda on ten successful years! 
Reviewed by Sharon Seymour