Kathryn Lefroy (text), and Rebecca Mills (illustrator), Alex and the Alpacas Save the World, Fremantle Press, May 2019, 224 pp., $16.99 (pbk), ISBN 9781925815412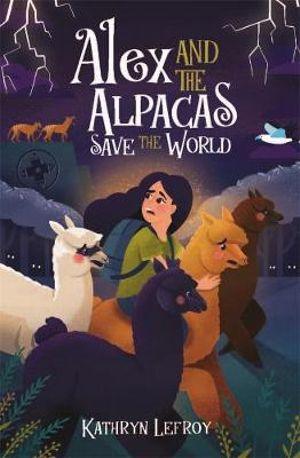 At the last minute Alex's school holiday plans take a twist. Instead of being at home getting bored, she is off to her Grandfather's farm in Tasmania with her Mum. As soon as Alex and her Mum arrive though it becomes apparent this is not going to be a regular holiday. From strange symbols on gate posts, to talking alpacas and a dangerous destructive force deep within the forest Alex is thrown from one adventure to another and finds herself in the challenging position of saving the world.
There are no dull moments in this book. Lefroy keeps the reader entertained with a constantly evolving story with many imaginative elements. Alex is a likeable and relatable character for young to middle age readers – dealing with many emotional, mental and physical challenges throughout the story. The talking alpacas provide a lighter and humorous side balancing out the ever-mounting problems threatening Alex, her family and ultimately the whole world.
The flowing character dialogue and descriptive sentences used by Lefroy help build an interesting, emotional and engaging story. It's a real page turner and provides quality examples of text for children to progress their own writing; extending their vocabulary and creating more interesting sentences. I can also imagine this book as a collective class text, as the chapters are not too long and the story has many exciting moments to keep a class engaged.
Reviewed by Julie Bertola
Read Julie's interview with Kathryn