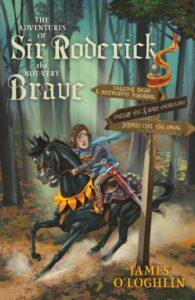 O'LOGHLIN James The Adventures of Sir Roderick the Not-Very Brave Pan, 2014 378pp $16.99 ISBN 9781742614038 SCIS 1660743
What makes us brave?  Are we born with it or is it something that we only use when faced with the opportunity.  This book is set in the times of knights and ruling Queens.  Roderick, a shy farm boy, saves the Queen's life and is rewarded with a knighthood and the opportunity to train and live with the other knights in the castle.  When war threatens, Roderick must be bold and go in search of a man the Queen believes can bring peace to the kingdom.  Facing insurmountable odds, giant cockroaches, a talking bear and his own timidness Roderick exceeds everybody's expectations.  But all is not what it seems in the realm and Roderick will learn daunting family secrets and have to make tough choices to save the ones he loves.
This great adventure talks about the use and misuse of power, family and how the ties that bind us are not always blood.  There are some great lines in the book about bravery including: For it is only those who feel fear who have the chance to be brave.  The book discusses some themes not often found in young children's books.  I highly recommend it for children who love a great adventure but like to ponder some of the deeper issues as well.
reviewed by Katie Poidomani