Bren MacDibble, Across the Risen Sea, Allen & Unwin, August 2020, 288 pp., RRP $16.99 (pbk), ISBN 9781760526054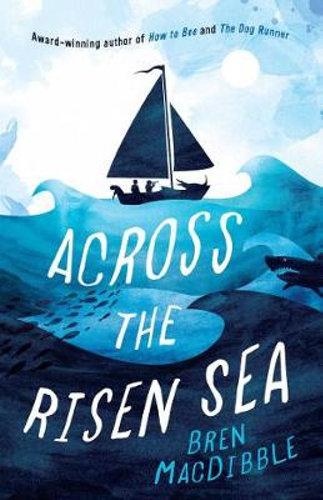 Neoma (Neo) lives on Cottage Hill Island, part of the Ockery Islands. With her best friend Jag, she lives a life of fishing and scavenging. Her days are simple. The older islanders remember a different life, when people travelled, went to restaurants, had technology, and were inoculated against disease. But all that is gone now, and it's a life that seems unimaginable to Neo and those her age. The sea has risen, drowning cities and houses. People build homes out of washed up cars and trucks. Climate change, (and particularly the Cyclone Summer) led to new diseases, loss of homes and properties, homeless wars, and mass evacuations. Animals that were rarely seen, such as alligators and sharks, pose a real danger to those making their lives on the islands. Summer is too hot to grow anything, and storms pose a sudden, serious danger.
Still, Neo is ensconced in a small community, and life is good, until three strangers arrive on Cottage Hill Island, chop down trees, and install unknown technology without permission. Curious and impulsive, Neo can't help investigating the tech after they leave, which burns her badly. Her curiosity also sets off a chain of events. She leaves the island to find out what the visit by the strangers means, and starts to learn about the world beyond the Ockery Islands. Along the way she discovers and ultimately solves a mystery, accidentally tames an alligator and a shark, gets captured by a pirate and rescues her friend Jag when he gets taken away for something she has done.
Neo is adventurous, brave and a 'doer', quick and smart, resourceful, loyal, and good at improvising. She is willing to put herself in danger to get things done, and for the sake of those she cares about. Inverting gender stereotypes, her best friend Jag, a boy, is more cautious and a thinker, often getting Neo to pause long enough to keep her safe. There is real depth to the characters – we come to know and care about them.
Neo's story is set in a fully realised world where the risen sea has brought about many changes. Skills such as using a boat and navigating by the sky are vital. It also becomes apparent that it is our world, just a little into the future, and that it was impacted by the greed of earlier generations. Woven throughout the story are three very important themes. There is an underlying message of the importance of living simply, with the Ockery Islanders having chosen to live 'low impact', gentle lives. There is also an anti-colonisation message, because the strangers who set up the technology need to learn to approach those who don't live like them in a suitable way to achieve their aims, rather than through domination, whilst also learning from the islanders rather than assuming they know best. Finally, there is a strong message about the importance of community and valuing human life, treating people well because they're people, not because they are productive.
Like a modern Huck Finn, Neo is rough around the edges, uneducated, but guided by a strong internal moral compass. The story is narrated in her voice, with idiomatic, casual language that immediately draws readers in. Across the Risen Sea is a beautifully written adventure story with plenty of humour, heart, and hope.
It is deservedly on the 2021 CBCA Book of the Year Notable list for Younger Readers.
Reviewed by Rachel le Rossignol