Dave Petzold, Seven Seas of Fleas, Starfish Bay Publishing, September 2020, 32 pp., RRP $22.99 (hbk), ISBN 9781760360986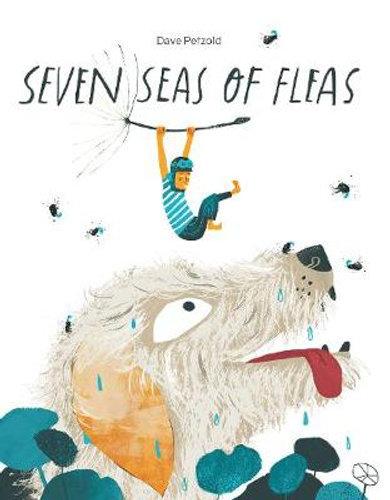 Seven Seas of Fleas has been Shortlisted for the CBCA New Illustrator Award. The imaginative illustrations showcase an excellent choice and use of colour on the part of first time author and illustrator, Dave Petzold. The pallette is fairly simple with strong use of blues and yellow highlighted with an occasional pop of red. The layout of text and images is well balanced throughout the book. The images that combine to make the illustrations expertly include areas with lots of definition and detail with areas of little definition and detail.
However, whilst the illustrations in this title are worthy of acclaim the text is less so. Seven Seas of Fleas begins with an older boy (Bryce McFee) looking despondent about washing the dog. The accompanying text reads, Washing the dog is such a bore. It's not my favorite kind of chore. I wish I could fly through the air, like the bees without a care… which is a little clunky. Further, the text itself does not entirely make sense. In order to avoid washing the dog, Bryce McFee takes off on a flight of fancy with some fleas, and the book ends without resolving the story line of the unwashed dog. The lack of traditional introduction, complication, resolution and end weaken this title somewhat.
I would recommend this title for its illustrations to young readers with a passion for art and creativity.
Reviewed by Anne Varnes