Lian Tanner,  Accidental Heroes (The Rogues #1),  Allen & Unwin, Oct 2017,  384pp.,  $19.99 (hbk),  ISBN: 9781760293529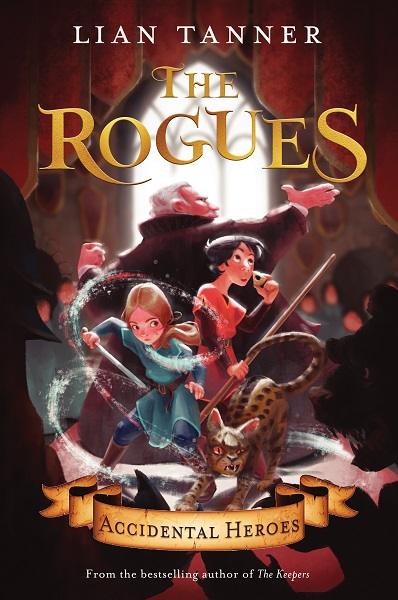 Accidental Heroes finds Duckling just wants an ordinary life, and to keep her Grandpa out of trouble. To do that, she needs to help the roguish Lord Rump pull off just one last Scheme, and to do that, she needs to find a boy, strong and not too bright. A disposable boy.  She finds Pummel, and a strange magic finds both of them, even though they're not aware of it at first. Caught up in assorted plots, from manipulation to assassination, they both have to work out who to trust and what to stand for.
Duckling is quick and clever and devious, but as she gets to know Pummel she begins to develop empathy and a conscience that complicates her desire for a safe life. She has come to like Pummel and respect his goodness, so how can she just walk away with her Grandpa when she knows that Pummel will pay the price for it? Pummel, in the meantime, has to learn to temper his good natured loyalty with caution as he begins to realise that not everyone is worthy of trust. His naivety nearly leads him to disaster several times when he almost trusts the wrong person with dangerous secrets, until the more worldly-wise Duckling stops him just in time.
The setting of this book is interesting and lots of fun. The action begins in the city of Berren, where magic isn't real, and it can be fatal to suggest otherwise. But things heat up when Lord Rump's Scheme takes Duckling and Pummel into the vividly described and strange Strong-hold. It turns out that Lord Rump has been too clever for his own good, and he and the children wind up trapped in time along with all the other residents of the Strong-hold, where ghosts and talking cats lurk, and the wild Hunt can possess anyone and destroy everything in its path.
Pummel and Duckling have a lot to learn from each other as they try to keep the Heir of Neuhalt safe. I'm looking forward, too, to finding out, in the next two books of the series, whether Lord Rump is capable of caring, or whether his devious schemes will finally get the better of him.
Action, adventure, and wild magic await readers aged 9 to 13 who are looking for something different in their fantasy.
Teachers' Tips can be found on the Allen & Unwin website.
Reviewed by Emily Clarke