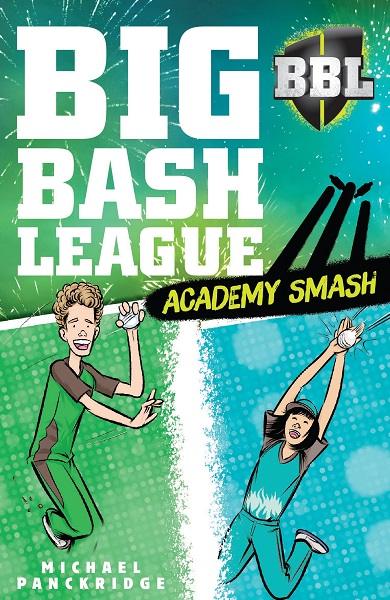 Michael Panckridge, Academy Smash (Big Bash League #5), Random House Australia,  30 Oct 2017,  144pp.,  $14.99 (pbk),  ISBN 9780143782278
Billy loves cricket. In particular he loves bowling in the social cricket game at the market every Friday afternoon. Working at the market before school might not pay much, but he has made many friends there and practises bowling using Giorgio's rotten apples. He is a Melbourne Stars fan and dreams of becoming the fastest bowler in the world. When his friend Wen-Lee tells him about a cricket academy camp run by the Stars, Billy does his best to work out a way to earn the entry fee.
This topical junior novel is a cracker of a read. It is fast paced with lots of dialogue and action.  Billy is resourceful and resilient when obstacles and disappointments happen. He is an endearing main character who is so caring of his friends you wish him to succeed. When Billy is teased because he is different, he finds a way to turn it around so that his aggressors are now potential new friends. It proves to be  friendship that wins in the end.
This is the fifth book in the Big Bash League series and I recommend it for lower to middle primary students, especially for young cricket lovers and reluctant readers. This story will inspire young cricketers, but what I love is how it encourages qualities of loyalty, selflessness and determination. It is wonderful to have quality sports genre books to offer our middle school readers.
Reviewed by Sharon Seymour